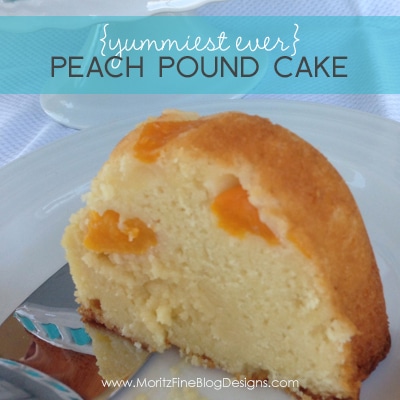 Yummiest Ever {Peach} Poundcake
Prep time: 15 mins
Cook time: 1 hour
Total time: 1 hour 15 mins
1 c. butter, softened
2 c. sugar
6 eggs
1 t. almond extract
1 t. vanilla
3 c. flour
¼ t. baking soda
¼ t. salt
½ c. sour cream
2 c. diced peaches
Cream butter, sugar and eggs until light and fluffy.
Add eggs one at a time.
Add almond and vanilla.
Add flour/baking soda/salt alternately with the sour cream.
Fold in peaches.
Pour into greased & floured bundt pan.
Bake 60 minutes at 350 degrees.
Cool 15 minutes before removing from pan to cool completely.
Recipe by at https://www.moritzfinedesigns.com/yummiest-ever-peach-pound-cake/