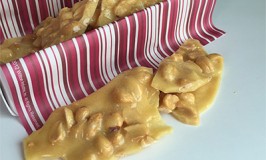 10-Minute Microwave Peanut Brittle
Author: Heather Moritz
1 cup sugar
1 cup raw peanuts
½. cup white karo syrup
½ tsp. vanilla
⅛ t. salt
1T. butter
1 t. baking soda
Mix sugar, peanuts and karo syrup in glass bowl. Cook in microwave 4 minutes and stir.
Cook 3 more minutes and stir.
Add vanilla, salt and butter. Cook 1½ minutes.
Add baking soda and stir well.
Pour onto a sheet of foil and spread thin with spatula.
Let stand 20-30 min and break into pieces.
Recipe by at https://www.moritzfinedesigns.com/10-minute-microwave-peanut-brittle/