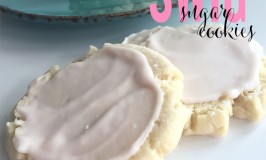 Author: Heather Moritz
Prep time: 30 mins
Cook time: 10 mins
Total time: 40 mins
1 cup butter (@room temp.)
1¼ c. sugar
¾ c. powdered sugar
¾ c. vegetable oil
2 Tablespoons of Water
2 eggs
½ teaspoon baking soda
½ teaspoons cream of tarter
1 teaspoon salt
5½ cups of flour
Cream together butter and sugar.
Add in vegetable oil, sugar, powdered sugar, water and eggs.
Slowly add in baking soda, cream of tarter, salt and flour.
Roll dough into golf-size balls.
Mix ¼ c. sugar and a pinch of salt together.
Wet the bottom of a glass, dip into sugar mixture, and push down onto cookie ball. Allow dough to spill out from glass.
Bake 8-10 minutes at 350 degrees.
FROSINT: Cream ¼ cup butter and ⅓ c. sour cream. Slowly add 1lb. powdered sugar, ⅛ cup milk (alternating with the powdered sugar) and 1 drop red food coloring. Spread on cooled cookies.
Recipe by at https://www.moritzfinedesigns.com/swig-best-sugar-cookie-recipe/