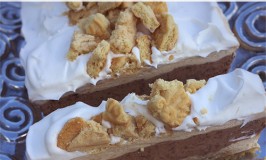 No-Bake Chocolate Peanut Butter Layer Dessert
Author: Heather Moritz
12 peanut butter sandwich cookies
2 TBSP. butter, melted
1 8oz. package cream cheese
½ c. creamy peanut butter
½ c. sugar
2 TSP. vanilla
1 12oz tub frozen whipped topping, thawed
⅔ c. chocolate chips
Crush 8 cookies and mix with melted butter. Press into bottom of 9x5 inch loaf pan.
Mix cream cheese, peanut butter, sugar and vanilla until well blended. Stir in 3 c. of whipped topping.
Divide mixture into 2 bowls. Mix melted chocolate into one of the bowls.
Layer the following over the crust:half of the mixture without chocolate, cream cheese chocolate mixture, other ½ of non-chocolate cream cheese mixture.
Freeze 4 hours to overnight.
Before serving, top with remaining whipped topping and remaining cookies, coarsely chopped.
Recipe by at https://www.moritzfinedesigns.com/no-bake-chocolate-peanut-butter-layer-dessert/