Top 10 Free Printable Pinterest Boards
Getting life organized, getting your home decorated, giving the kids fun activities to do are possible with the help of amazing free printables available throughout the web.
The Moritz Fine Designs blog evolved into providing lots and lots of free printables because of the larger number of readers asking for them. My readers were looking for organizers, checklists, simple home decor and more. Over the last many years it's been a pleasure to bring  you hundreds and hundreds of free printables.
To find even more free printables, you can use Pinterest and use it a search tool to find just about anything you could possible want to print!
I personally love having amazing printables come through my feed on Pinterest. By following some awesome "Free Printable" boards on Pinterest you will start to see more and more incredible freebies hit your feed.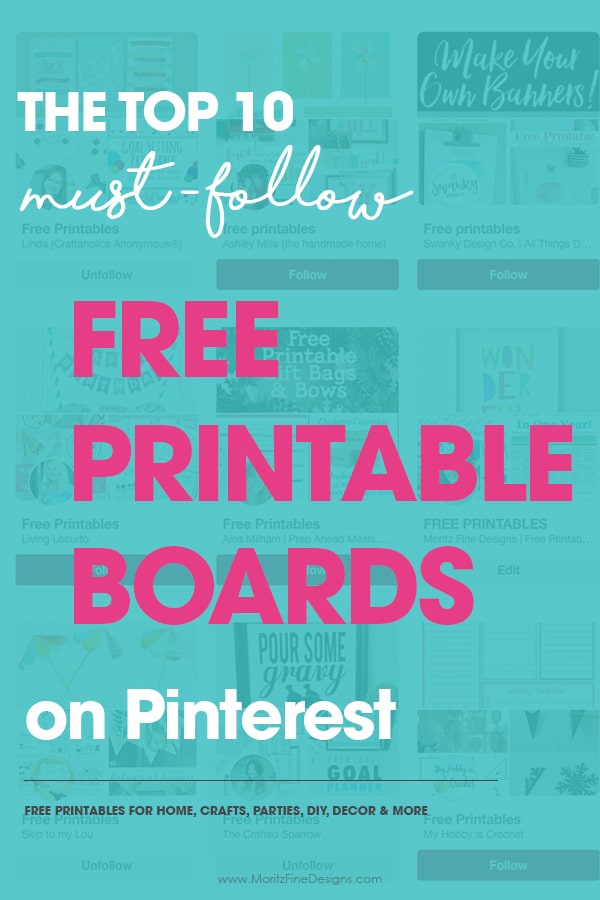 Top 10 Free Printable Pinterest Boards
Be sure to check out these Top 10 Free Printable Pinterest Boards:
INKHAPPI: At Inkhappi you will find several quotes and inspirational prints, holiday ideas and printables, gift ideas, recipes, home decor ideas and so much more!
---
A GIRL AND HER GLUE GUN: A Girl and Her Glue Gun puts her hot glue gun to good use (as well as her vinyl cutter and sewing machine) She she is constantly trying to come up with fast and easy projects that won't break the bank!
---
MORITZ FINE DESIGNS: At Moritz Fine Designs you will find creative printables to simplify life, which often included home, organization and cleaning, kid organizers and even cute home decor. Their passion is providing resources to make life easier and more fun through printables.
---
CAPTURING JOY:  Capturing Joy shares how to establish a tight-knit bond with your family, a foundation to build on for years to come through offering dinner ideas, photo tips, free printables, travel tips and more.
---
PRETTY PROVIDENCE: Over at Pretty Providence you will find recipes, DIY projects and ways to have fun and celebrate the good things in life – on any budget. You'll find cheap + easy recipes, crafts, home decor DIY's, thrifty tips, affordable fashion and other stuff that is totally worthy of sharing!
---
CRAFTED SPARROW: The Crafted Sparrow shares everything from crafts & DIY projects, home decor, party planning, jewelry making, to the occasional recipe.
---
LOSTBUMBLEBEE: The LostBumblebee is a little creative outlet with created with the intention to make the world a prettier place one print at a time.
---
POLKA DOT CHAIR: The Polka Dot Chair is a place for Creative Moms and Families to come to find simple and inspiring DIY projects for their home, sewing projects, Holiday crafts and family recipes. It's mission is to make it's readers WANT to create.
---
DATING DIVAS: The Dating Divas offers awesome dates already completely planned for your upcoming weekend! They also post quick & easy ideas to serve your spouse, unforgettable family outings and activities with the kids and more. They have tons of amazing free printables.
---
EIGHTEEN25: Eighteen25 is a DIY site for the crafter and creator, baker and chef, reader and writer, or anyone for that matter!
Hopefully you found a few or even many of the Free Printable Pinterest Boards that you would love to follow. Do you have a favorite Printables Board you follow and want to share? I'd love to hear what it is–just leave the link in the comments!
IT'S TIME TO
GET READY FOR 2024!
Get organized for 2024 with the easy to use monthly 2024 calendar! Simply opt in below to have the FREE calendar sent straight to your inbox.