Wake Up & Be Happy | Free Printable Home Decor Print
Ever have those mornings where someone in your house has the morning "grumpies"?! We definitely have days in our house where there is a is a grumpy and sometimes more than one (and of course, that grumpy person is NEVER me! LOL). These free printable home decor prints are the perfect solution!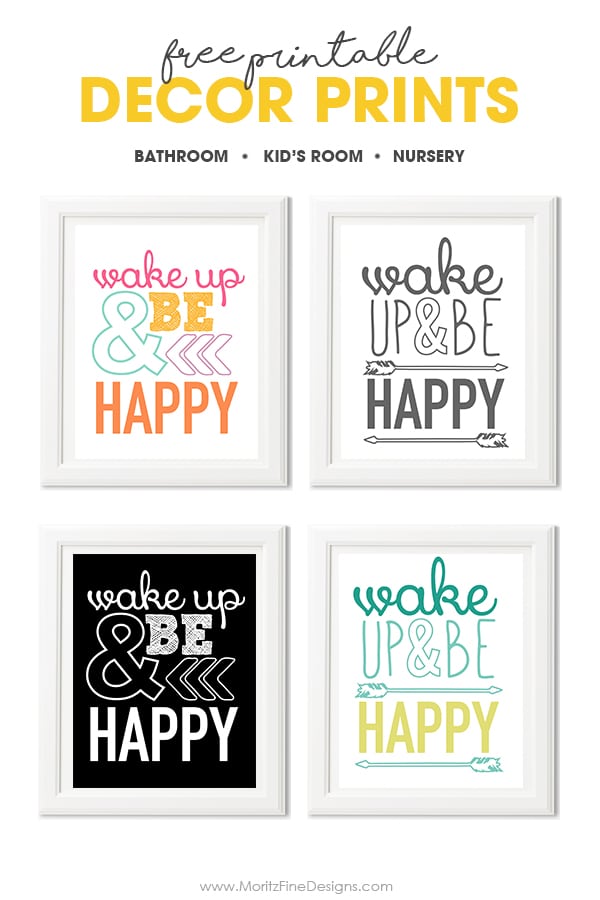 FREE PRINTABLE HOME DECOR PRINTS
Sometime we just need a fresh and bright little reminder to "be happy"! You can grab one of these free "Wake Up & Be Happy!" printables.
Honestly, I think the perfect place is to hang the print in the bathroom. It's the first thing you see in the morning and a great way to get the attitude in check. I think it would be especially perfect in the kid's bathroom!
There are many ways you can display this sign at your house. You could frame it or print it on a canvas. Tape it up to the door leading outside, as a great last minute reminder before you leave the house. It's even perfect for a collage of prints in an office.
SUPPLIES: 

The printable is free and you can get the download from the link at the bottom of the post. Be sure to print the home decor prints on best quality to get the deepest, richest color when printing. Also, printing on card stock allows the color to be much more rich as well.
As for the framing. Go simple. Black or white. It's that easy to decorate on the cheap!
IT IS POSSIBLE TO
ENJOY STRESS FREE HOLIDAYS THIS YEAR!
The holiday season can be downright exhausting. We have too many things to do and not enough time to get them done. The 2023 HOLIDAY PLANNER will not only help you get organized, but will also help melt away that holiday stress so that you can actually enjoy the season!