Easter Snack Mix | Bunny Munch
The kids get baskets full of candy, but what about the adults? When Easter dinner is over and the kid's are snacking away on their big chocolate Easter Bunnies, their Cadbury Eggs and all the other fun treats they got in their basket it's time to deter the adults from trying to sneak stuff out of the kid's baskets! I love to whip up a big batch of this Easter Snack Mix. It's perfect to grab a handful and get a taste of the salty-sweet combo.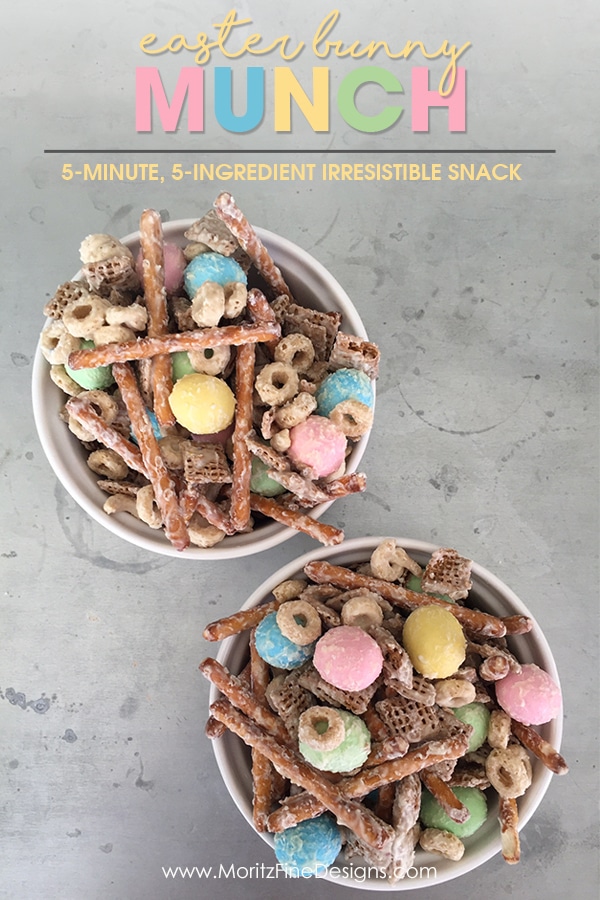 What I love most is that this is super easy to make. When I say EASY, it really couldn't be easier or take less time–about 5 minutes and there are only 5 ingredients. If you are capable of opening a few bags and running the microwave, then this is just your speed!
Just grab a big bowl, dump all of the ingredients in, melt the chocolate and pour the chocolate over the ingredients, mix and stir. Actually, this is such a simple recipe you can even have your kids make it!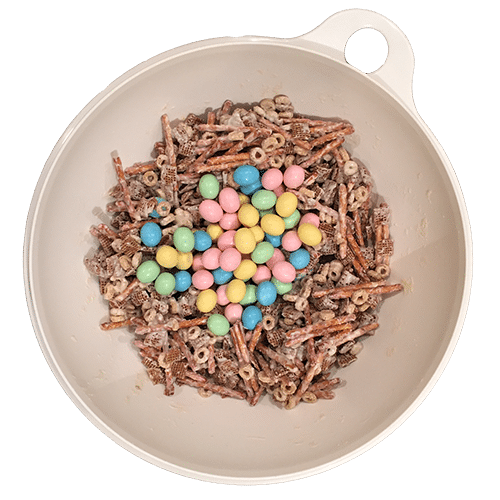 This is also a fun snack that we have used for our Acts of Kindness Challenge. I love to use some super cute Easter treat bags to bring to neighbors for a small gift or I send some home with our guests that came to our Easter Celebration!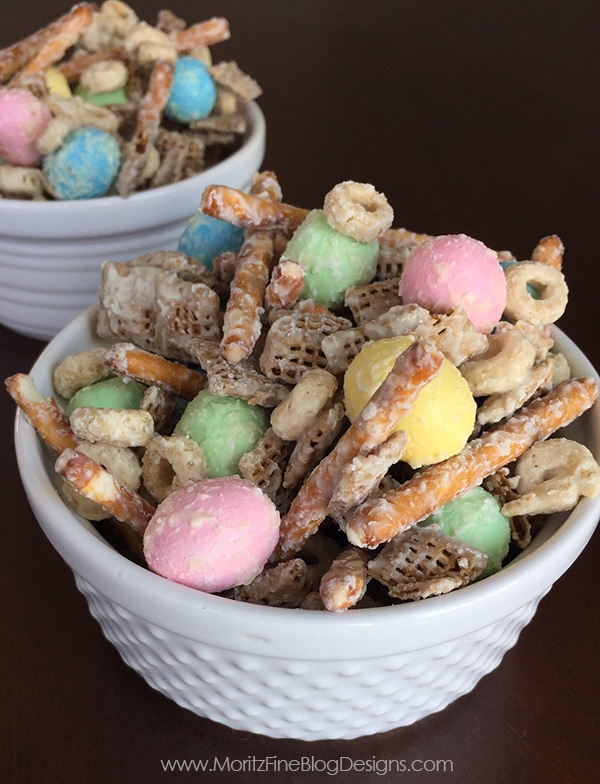 Use the recipe below to create your first batch of the Easter Snack Mix!
Easy Easter Snack Mix
Author:
Ingredients
4 c. Chex Cereal (use what you like, wheat, corn or rice)
2 c. Pretzels
2 c. Cheerios
1 c. candy coated easter eggs (Hershey's, Cadbury, M&M, etc)
1 bag White Chocolate Chips (12 oz)
Instructions
In a large bowl, mix all ingredients except White Chocolate Chips.
Place white chocolate chips in microwave safe bowl. Melt for 1 min. 30 sec. at 70% power and stir until smooth.
Pour chocolate over snack mix and stir.
Pour on wax paper and let set until hard.
By the way, if you happen to be hosting Easter, you may need a few activities for the kids. Be sure to check out this fun list of kid's activities!
IT'S TIME TO
GET READY FOR 2024!
Get organized for 2024 with the easy to use monthly 2024 calendar! Simply opt in below to have the FREE calendar sent straight to your inbox.