30-Day Acts of Kindness Challenge
Sometimes it feels like we could all be a little kinder. Parents are one of the biggest influences on children and can play a significant role in how they treat others. Our children watch what we do, and follow in our footsteps. They depend on us to show them how to be caring and help others, and no matter how old your child is, now is the perfect time to start teaching them how to be kind.
Doing acts of kindness will not only show our kids how to be kind to others but also how to help others. By doing these small and simple acts of kindness with your kids, you will not only teach them about compassion but also how easy it is to be kind to others.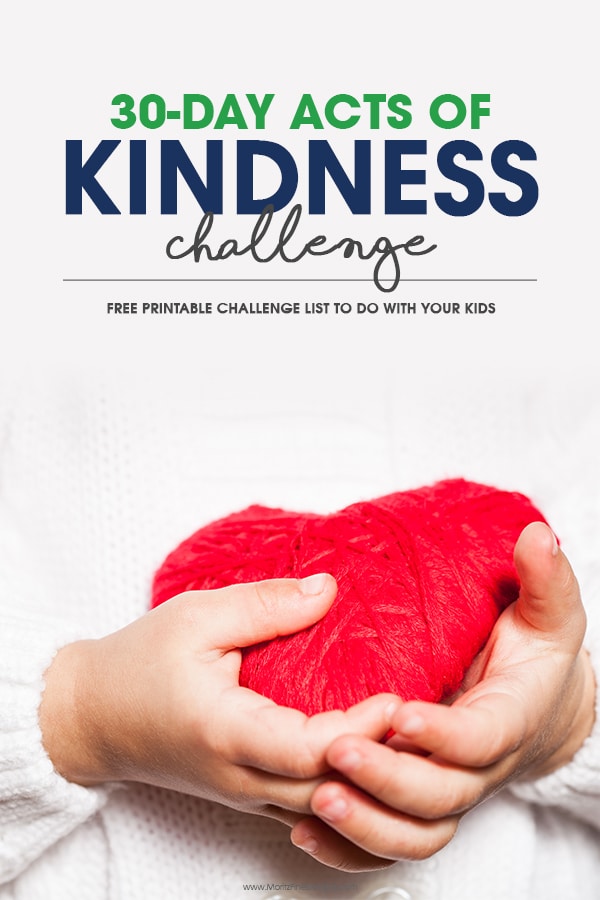 Today, I challenge you to try the 30-Day Acts of Kindness Challenge with your kids. Choose 30 acts of kindness, one for each day, to do with your kids!
30-Day Acts of Kindness Challenge
Doing random acts of kindness is so easy and fun! Try the 30-Day Acts of Kindness Challenge with your kids (you can get the free printable from the bottom of the post below). There are more than 50 ideas listed on the challenge sheet. For the next 30 days, choose 1 of the items to do with your kids each day. When an act of kindness is completed, put a check-mark next to that item.
Here are some acts of kindness to included on the challenge list:
Compliment someone
Leave a treat for the mailman
Buy a gift card for the person behind you in line
Make baked goods for the neighbors
Buy the person behind you coffee
Smile at someone
Donate unused toys to those in need
Leave a 50% or more tip
Babysit a neighbor, friend or family member
Send a thank-you card to someone
Give a dog treat to a dog on a walk
Pay for a stranger's meal
Plant a flower or tree and watch it grow
Say thank you and please more
Volunteer
Open the door for someone
Offer to do yard work for a neighbor
Send a care package to a soldier
Pick up trash
Send a handwritten letter
Leave change in a vending machine
Let someone go before you in line
Pay someone a compliment
Buy groceries for a family in need
Make breakfast for a family member
Donate to charity
Give a teacher a thank-you gift
Help someone elderly carry out their groceries
Leave a bag of candy on a doorstep
Prepare a meal for your family
Donate outgrown clothes
Help someone in need cross the street
Plan a surprise party for someone
Volunteer at a retirement home
Host a free lemonade stand
Hold the elevator
Do another family member's chores
Pay for someone's bus/cab/Uber fare
Make hot chocolate for your family
Leave an encouraging note on a car
Pay the adoption fee for a rescue animal
Donate your hair to a good cause
Hide money in a book for people to find
Be kind to others
Create inspiring chalk art at the park
Sponsor a child
Donate books to the library
Walk a neighbor's dog
Return someone's cart for them at the store
Tape change to a parking meter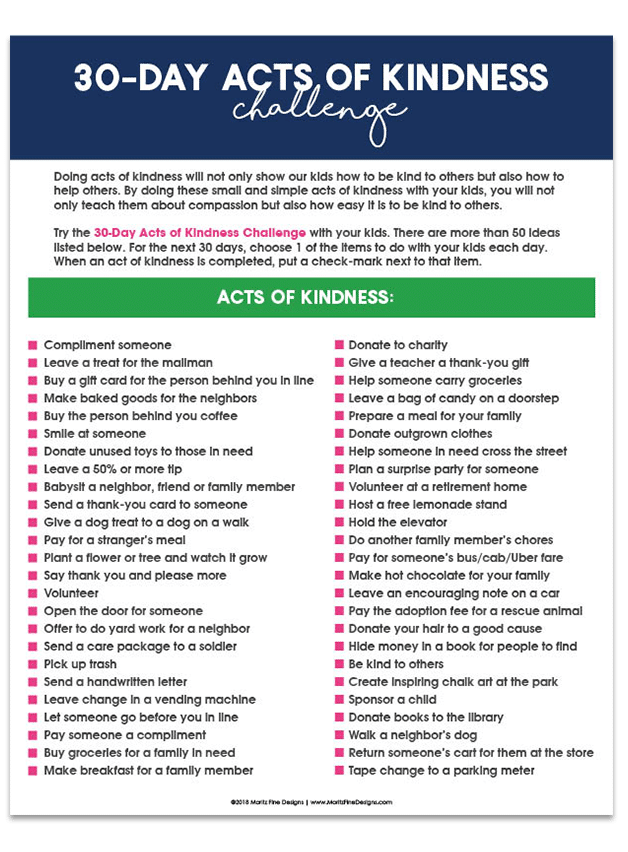 Random acts of kindness are not just a way to give back to those who need something a little extra during a hard time, but also a way to spread our wealth and joy to other people. Our children need to learn the power being kind to one another can bring, and how it has an impact on everyone. One simple act of kindness can make someone else's entire day better, and can even help change someone's life.
IT'S TIME TO
GET READY FOR 2024!
Get organized for 2024 with the easy to use monthly 2024 calendar! Simply opt in below to have the FREE calendar sent straight to your inbox.