The Secret to Successful School Mornings + Free Printable Morning Routine Checklist
Mornings can be tough, even if you're a morning person! Chances are, your kiddos are either bouncing off the walls before sunrise…or impossible to budge, blaring alarm be darned.
Busy mornings can feel like total chaos at any house. (Been there!) Everyone's trying to get ready, eating breakfast, brushing teeth (or forgetting to), and looking all over for a mysteriously missing shoe or folder.
Mom feels bad for getting snippy at the kids, the kids are annoyed because they're still groggy and they can't find what they need, and Dad's frustrated because he's trying to get himself out the door, too. Oh, and somehow no one took the dog out!
Basically, mornings can be a hot mess.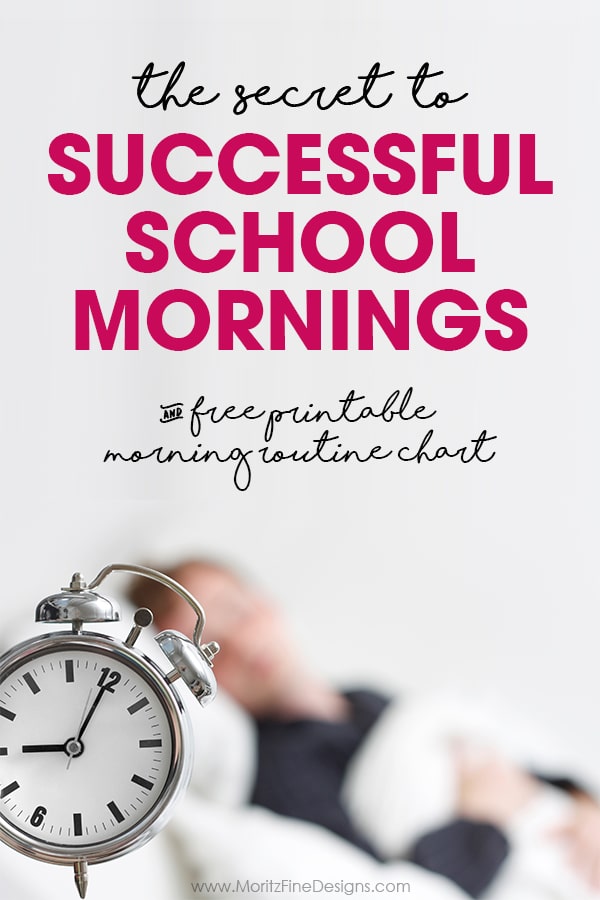 So what's a busy mom to do?
Morning Routine Checklist
Make your family's mornings easier with a simple printable morning routine checklist! If you've ever wished for a simple morning routine checklist, this checklist is your answer. (Anyone who's driven back home to pick up a forgotten item knows exactly what I'm talking about!) This morning routine checklist provides a step-by-step plan to follow so your mornings will run on autopilot.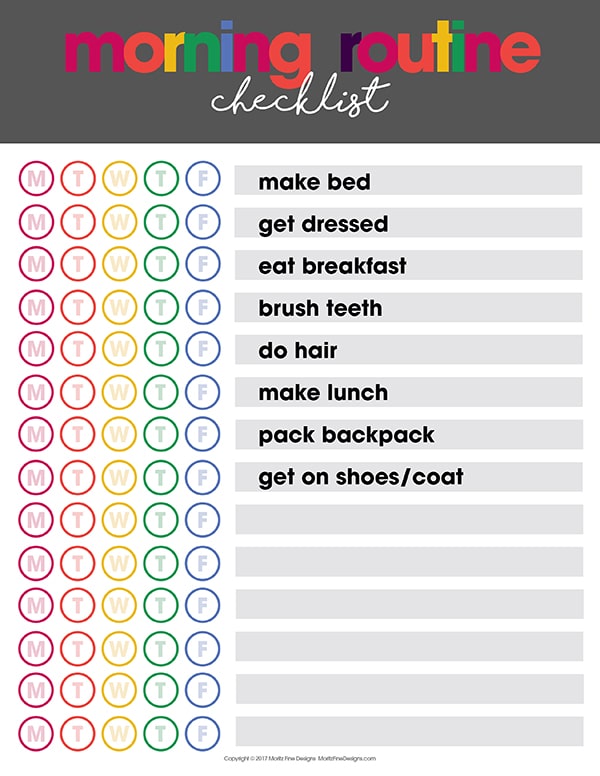 No more wracking our sleep-fogged brains, trying to figure out WHAT we might be forgetting as we run out the door (like lunch)! It's all here, ready for reference. This morning routine checklist can also help prevent distractions. (Watching TV while eating cereal? Not on the morning list.)
A few options for using this printable morning routine list:
This list helps kiddos focus on the basics from brushing their teeth to finding their way out the door. Your teens might even have a chance to actually eat breakfast (as opposed to tossing a granola bar in their backpack).
Morning routines help build life-long habits—and habits make life SO much easier! Just like we, as adults, drink a glass of water in the morning, turn on the coffeemaker and read the news, kids need a plan to help them successfully navigate each morning.
When you implement this routine, help kids ease into it, as they might not embrace the change right away. Some kids love the help while others might not be into the idea of using a morning routine checklist until they see how much it helps them have more successful mornings.
Set a goal to be out the door on time all week long. If necessary, offer a reward to get the whole family on board (pizza night, a favorite family activity, or bonus points toward a privilege they've been trying to earn).
ESTABLISHING A MORNING ROUTINE HELPS:
Kids Build Confidence
They're no longer embarrassed about showing up late for school, unprepared or not looking their best.
Eliminate Morning Stress
No more stressful mornings trying to get out the door! No one's angry or upset in the morning, so everyone starts the day in a positive mood.
The Whole Day Run More Smoothly
When mornings are successful, they set up the rest of the day for success. Permission slips are remembered, homework is turned in, and things just "go" better!
Kids Sleep Better
When kids know exactly how much time they need to get out the door in the mornings, they can sleep soundly knowing they won't be waking up to chaos. They'll fall asleep easier, too!
All kids can benefit from a regular morning routine. (Adults too, for that matter!) Routines help kids do better in school, get a great start to the day, and be more successful overall. Help your kids establish their morning routine by using this easy-to-use printable so they can follow along.
The kids build great morning habits while YOU will experience less stress—sounds great to me! Try adopting a morning routine today!
IT IS POSSIBLE TO
ENJOY STRESS FREE HOLIDAYS THIS YEAR!
The holiday season can be downright exhausting. We have too many things to do and not enough time to get them done. The 2023 HOLIDAY PLANNER will not only help you get organized, but will also help melt away that holiday stress so that you can actually enjoy the season!