We often try to make resolutions and goals for following aspects of our life: personal, health, financial, family and spiritual. I thought I would share my two spiritual goals for the year with you all. I want to me more intentional in my scripture memory and my tracking of prayer requests.
When it cones to my prayer life, I am using this Prayer Request Tracker to be writing down things I am praying for so that I can see the amazing ways God is work in answering prayer. Feel free to download it and give it a try too!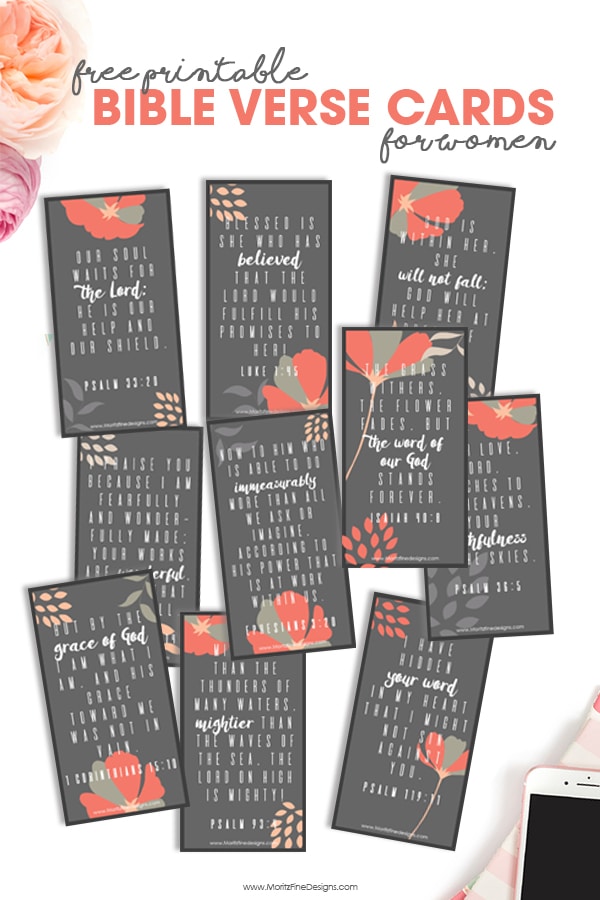 Bible Verse Cards for Women
Our family memorizes one verse a week, but to be honest, I have not been good at reviewing past weeks verses which results in ultimately not having those verses deep in memory. This year, I am using a Bible memory app which sends reminders to review past verses. I am already loving it and am anxious to have 52 verses buried in my memory when the year is over.
I'd like to focus on some specific verses this year. I have compiled a great list of Bible verses every woman should hide away in her heart! To help memorize them you can use the Bible Verse for Women–check them out, there might be a few you would like to memorize too.
"Blessed is she who has believed that the Lord would fulfill his promises to her!" Luke‬ ‭1:45‬ ‭NIV‬‬
"God is within her, she will not fall; God will help her at break of day." Psalm‬ ‭46:5‬ ‭NIV‬‬
I praise you because I am fearfully and wonderfully made; your works are wonderful, I know that full well. -Psalm 139:14 NIV
"Mightier than the thunders of many waters, mightier than the waves of the sea, the Lord on high is mighty!" Psalms‬ ‭93:4‬ ‭ESV‬‬
I have hidden your word in my heart that I might not sin against you. -Psalm 119:11 NIV
"Now to him who is able to do immeasurably more than all we ask or imagine, according to his power that is at work within us," Ephesians‬ ‭3:20‬ ‭NIV‬‬
The grass withers, the flower fades, But the word of our God stands forever. Isaiah‬ ‭40:8‬ ‭NKJV‬
Our soul waits for the LORD; He is our help and our shield. Psalms‬ ‭33:20‬ ‭NKJV‬‬
Your love, Lord, reaches to the heavens, your faithfulness to the skies. Psalm‬ ‭36:5‬ ‭NIV‬‬
But by the grace of God I am what I am, and his grace toward me was not in vain.
– 1 Corinthians 15:10 [ESV]
Are the kids in your life learning scripture too? Grab these Bible Memorization Cards for kids! The verses are short in length but super powerful!