Answered prayers. When our prayers are answered, we often forget what we used to pray for. As we wait on unanswered prayer, and question if God will or won't answer our most recent request we need to have a little faith that our prayers are getting heard.
There are times we can be discouraged because our prayers are not answered on our terms or conditions or even our own timeline.
This feeling of discouragement can quickly be diffused when take the time to look at our answered prayers from the past.
But what were those answered prayers? It can be hard to remember if we don't write them down.
Prayer Request Tracker
You can use the Prayer Request Tracker as a simple way to what you are praying for.
It's easy to get the download at the bottom of this post. There are two Prayer Request Trackers available, similar in style–yet different in layout–both accomplish the same purpose. Choose the one that suits your preference the best.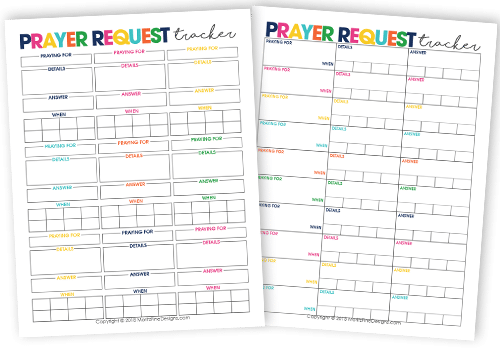 It's easy to list what or who you are praying for, the details of the situation you are praying for, how God answered the prayer and when.
Are you not spending enough time in prayer or in God's Word each day? Be sure to prioritize this time each and every day–add it to your Daily Task Organizer so it's not forgotten–make it your priority.
IT IS POSSIBLE TO
ENJOY STRESS FREE HOLIDAYS THIS YEAR!
The holiday season can be downright exhausting. We have too many things to do and not enough time to get them done. The 2023 HOLIDAY PLANNER will not only help you get organized, but will also help melt away that holiday stress so that you can actually enjoy the season!