Printable House Paint Planner
When we moved in to our current home, we painted every single room–which means we have lots of half empty paint cans in our basement–and now that we have lived here 7 years, I am starting to refresh some of our rooms with a fresh coat of paint in a new color. Keeping track of it all could have been disastrous if I didn't take the time to write it all down in my paint planner!
House Paint Planner
There were two things I that I have been so thankful I took the time to do over the years. First, I wrote on every single paint can the name of the room that it was used in. Second, I kept a very accurate list of every paint color name, sheen, amount used and brand for every single room in the house. I can't even tell you how many times over the years I have accessed this list. It's been super easy to check when a friend asked what color I used for a particular room.
I want you to be able to have the same easy access list I have!  There are two version available, be sure to download the list at the bottom of this post and use the one that you like best!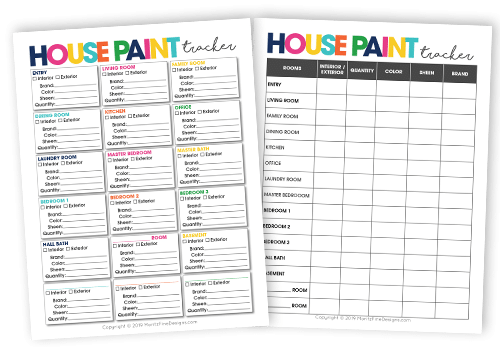 I took this list and added it to my Life Management Binder for super easy access–remember I keep my Life Management Binder in a kitchen cabinet so I can grab it in a quick minute. I use it just about every day.
Now, as I am refreshing the paint in many of our rooms, I am updating my House Paint Planner and at the same time I am grabbing the old paint cans and dropping them off at the recycling center. In the quest to be clutter free, it's best to get rid of the old.
IT'S TIME TO
GET READY FOR 2024!
Get organized for 2024 with the easy to use monthly 2024 calendar! Simply opt in below to have the FREE calendar sent straight to your inbox.