Clutter Control Checklist
Clutter. It haunts us all, doesn't it?
Every single time I clean out a closet, organize a junk drawer or deep clean a room I tell myself, I will never, ever allow that particular space get cluttered again. Ever.
But then it happens. You know what I mean by it. Simply put, LIFE. Life happens. Which means we get in a hurry, we set things down without putting them in the right place, the kids drop some crumbs and don't clean them up right away up.
Then, slowly, that super organized closet, the neatest junk drawer ever and the room that got deep cleaned are far from perfect.
CLUTTER CONTROL CHECKLIST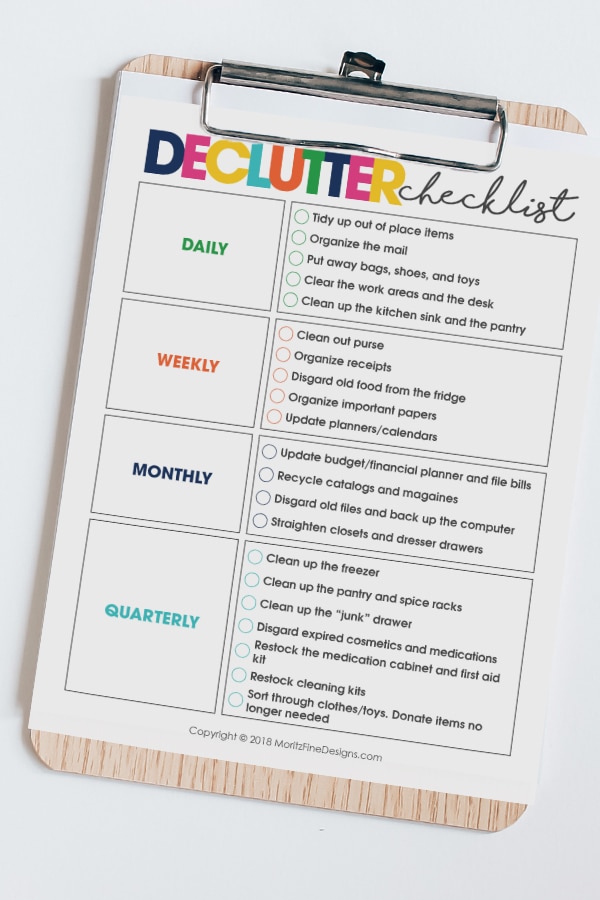 Instead of spending hours and hours infrequently cleaning certain areas of your home, try transitioning to spending a few minutes each day, a bit of time each week as well as monthly and quarterly to constantly keep the clutter out of your home.
But where do you begin each and every day?  Try using the Declutter Checklist. You can download the PDF at the bottom of the post and print it out.  There are simple tasks to take care of each day. Try not to miss a day. Take one day a week to tackle the weekly decluttering tasks.
Mark your calendar to get the monthly and quarterly tasks done as well. Before you know it, you'll look around and realize you are staying on top of all that clutter.
Need a little help with making sure you can get these tasks done each and every day? Schedule them! Use the Daily Task Organizer to get more done in less time. Add all of the daily decluttering tasks plus everything else you need to do to this to-do list.
IT IS POSSIBLE TO
ENJOY STRESS FREE HOLIDAYS THIS YEAR!
The holiday season can be downright exhausting. We have too many things to do and not enough time to get them done. The 2023 HOLIDAY PLANNER will not only help you get organized, but will also help melt away that holiday stress so that you can actually enjoy the season!