Simple Yearly Cleaning Checklist | Only 3 Tasks Each Month!
It's that time of year when we start to set goals and make priorities for the upcoming year. It's especially good time for me, personally, to re-organize "life". Between working full time, running our boys to all their activities, cooking, cleaning and church stuff, life is FULL! We are thankful for a night at home with nothing on the calendar!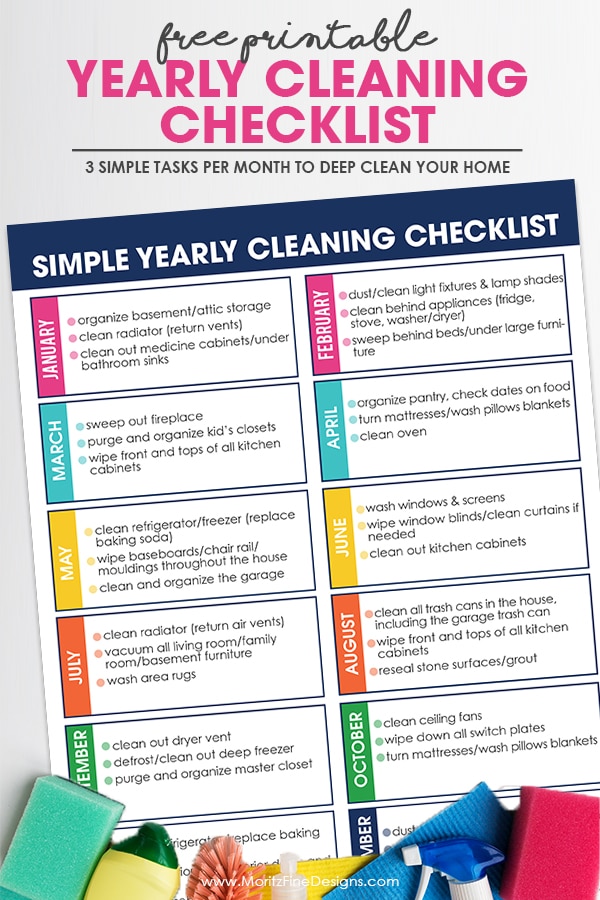 My supportive and amazing hubby has been kind enough to offer for us to have someone come in and clean to help relieve my duties a bit, but I have to admit that anytime someone has come in the past, I've not been thrilled with the job they have done.
Honestly, I have a pretty good system going of cleaning something different everyday AND I have 3 boys that are at the age where they help are expected to help out a lot. Weekly they clean their rooms, bathrooms and basement.
Even through there are times their job might not be as good as I would like, I've learned to either ask them to re-do it, or relax and let it go as is! The older they get the better job they do and I'm so thankful for their help!
Beyond the day-in and day-out weekly cleaning stuff, the thing I struggle with the most is the deep cleaning. With no set schedule, I can't remember when I dusted the blinds last or swept behind the refrigerator!
I know I need a system in order to make sure these tasks get accomplished. So, I came up with a Simple Yearly Cleaning Checklist (download the checklist below). The best part is that there are only 3 things to do each month. I plan to do one item each week and take the 4th week of the month off!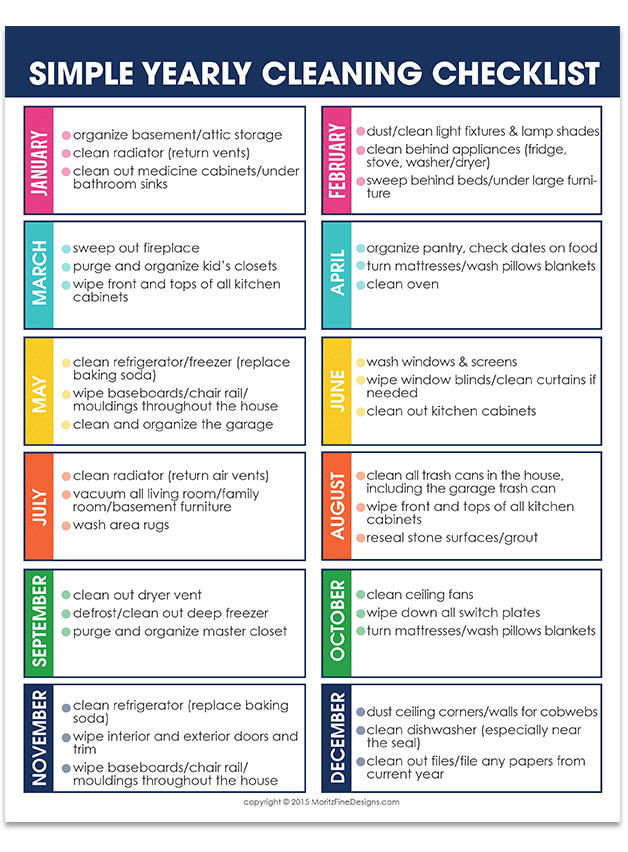 The yearly cleaning schedule is simple enough it does not feel overwhelming, but rather is very manageable. I hope this helps you feel a little more organized this upcoming year!
IT'S TIME TO
GET READY FOR 2024!
Get organized for 2024 with the easy to use monthly 2024 calendar! Simply opt in below to have the FREE calendar sent straight to your inbox.