Free Printable Birthday Record
You hop on Facebook to see all of the birthday wishes to your sweet sister-in-law. Aww, as you start writing your own well wishes, you realize your sister-in-law's birthday was 2 days ago.
Guilt. How did you forget it? Not only did you not send a birthday card, you didn't even say happy birthday on Facebook. You feel like the world's worst sister-in-law. Now you have to dig yourself out of this hole!
Printable Birthday Record
It may sound silly, but I know many of you can relate–the older we get the more we forget. The things I never used to have to write down, I now need to add to my calendar or my weekly to do list.
In today's world we have lost the art of sending birthday cards (or almost any kind of card for that matter) via snail mail. It seems we find it easer to shoot off a text, leave a comment on Facebook or, if we are really motivated, send an e-card.
No matter how you choose to send a birthday greeting, the important part as that we remember to actually send the greeting.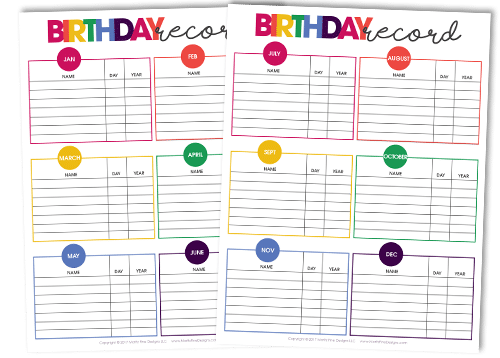 Compiling a list of both family and friend's birthdays takes just a bit of time, but is of great value in the long run. No longer will you feel like the worst friend or family member because you have forgotten someone's birthday.
Use the Birthday Record as a resource. Once you have a complete list of birthdays, every year you can add the birthdays to your planner or calendar.
IT'S TIME TO
GET READY FOR 2023!
Get organized for 2023 with our brand new, easy to use Digital 2023 Planner! Our Planner will help you get organized and stay organized. Oh, and did we mention how pretty it is too? Use code "SAVE5" to save $5 now.