I Love My Frame TV & How to Add Art for Free!
I vowed to never have a TV above my mantle. Never. Ever. I am not a fan of how they look and I love being able to decorate my mantle with every season change.
But then it happened, I started seeing the most beautiful, drool-worthy artwork above mantles on Instagram. I fell in love with just how pretty the artwork was. Low and behold, it wasn't just artwork! The artwork was actually a tv I was seeing above people's fireplaces. Woah!
So yes, I caved! We now have a Samsung Frame TV above our mantle–check out why I love it so much!
It's absolutely unrecognizable as a tv- it sets flush to the wall, looks just like a piece of art, you can easily change the frame (use a different colored bezel –I have the beige, it's a natural wood color) and the art!
get more!
Frame TV Digital Prints
Looking for even more designs for your Frame TV? Check out our collection of prints in the shop!
Artwork is available in the art store for a monthly fee, but I like to upload my own art.
How to add photos or art to the Samsung Frame TV
First you need to edit your art or photo to 3840 x 2160px (You can use a free program like Canva, PicMonkey, the Adobe App on your phone or even the free app called Image Size that's super simple to use)
If you haven't already, download the SmartThings App (free) and connect your Samsung Frame TV.
From the app, select "art mode" and add your photos/artwork.
Select "no mat".
Hit "set".
Your art will now be on your TV!
Let's make this even easier–watch the video below for all the details!
Everyone has a different style in their home decor, so I have created four Frame TV Christmas Art options for you–all for free!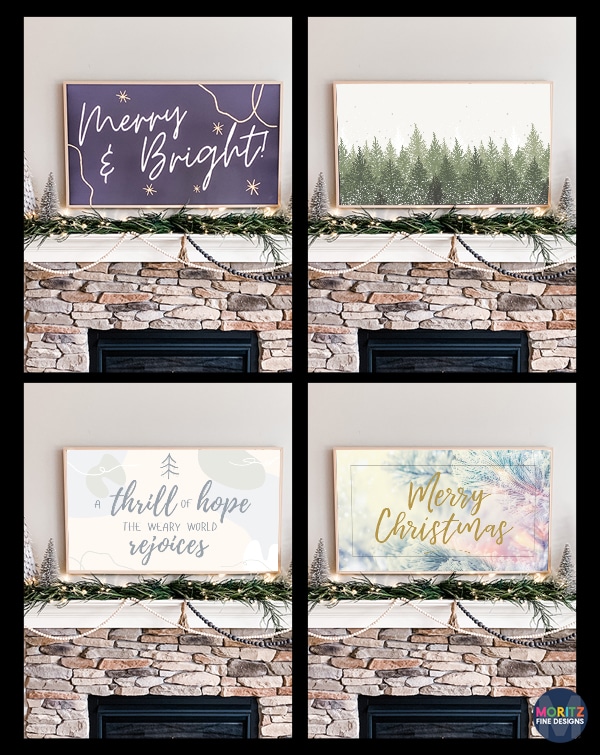 To get your free Samsung Frame TV art, simply click the button below and your art will be delivered straight to your inbox!
Looking for other great, easy and free Christmas decor? You can grab some Christmas prints here.
IT IS POSSIBLE TO
ENJOY STRESS FREE HOLIDAYS THIS YEAR!
The holiday season can be downright exhausting. We have too many things to do and not enough time to get them done. The 2023 HOLIDAY PLANNER will not only help you get organized, but will also help melt away that holiday stress so that you can actually enjoy the season!