Weekend Prep Checklist | Your Key to a Successful Week
Daily survival mode isn't fun.
The Problem.
You know, those days when you don't know what to make for dinner, you realize the kid's uniforms aren't washed for the upcoming game, you missed paying the mobile phone bill on time and ____________________ (you fill in the blank).
Does this sound familiar? Maybe it's not that drastic for you, but in some way, shape or form, there's a part you can identify with.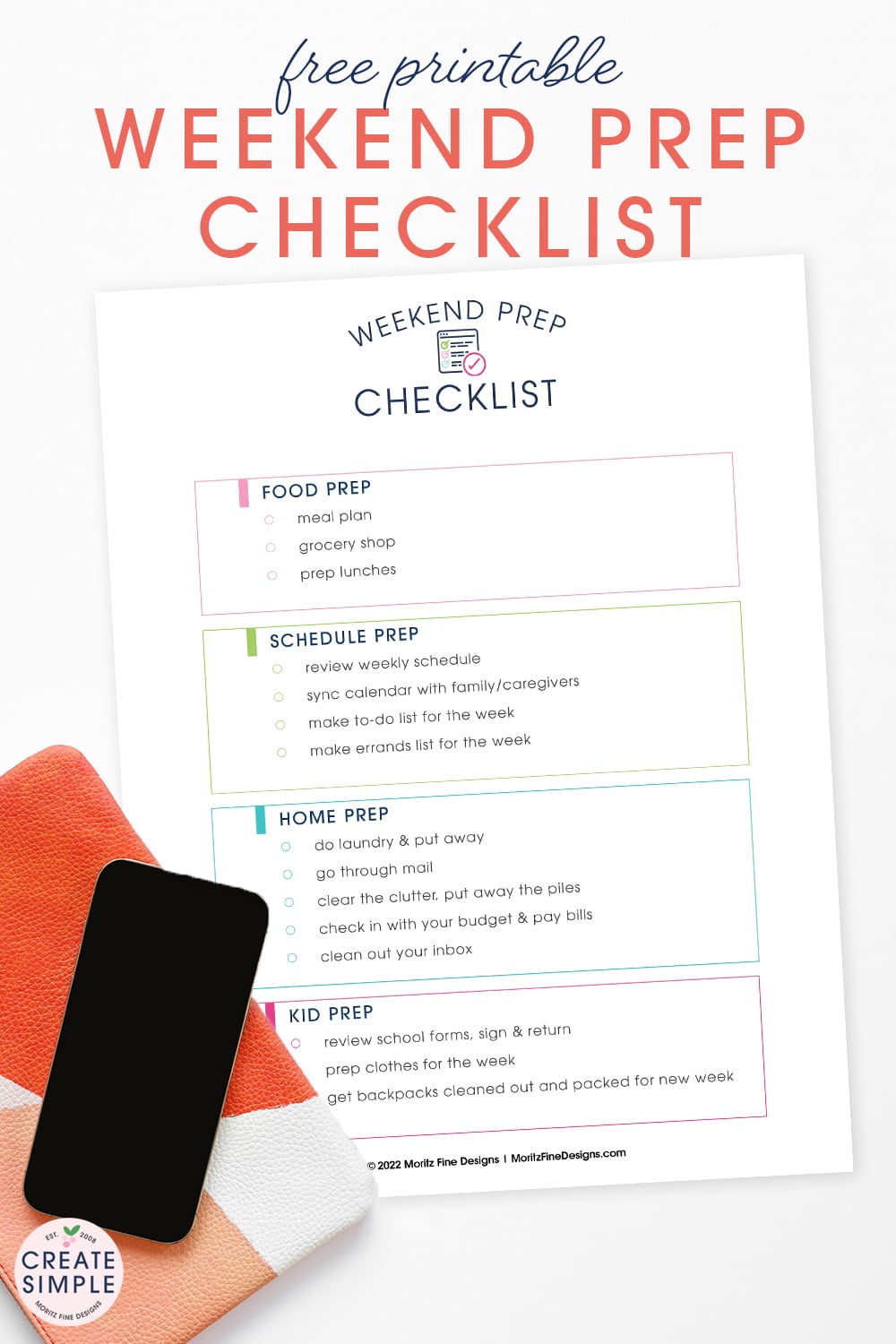 The Solution | Weekend Prep Checklist
I often felt the same way. I felt like I would "get through" each weekday while pining for the weekend when I could breathe a bit. But by the time I got to the weekend, there wasn't actually as much breathing room as I hoped.
It took a long time, but I finally developed a solution that worked for me–my Weekend Prep Checklist.
Let me walk you through it! I like to break the list of items down into 4 categories:
FOOD PREP
—> meal plan
—> grocery shop
—> prep lunches
SCHEDULE PREP
—> review weekly schedule
—> sync calendar with family / caregivers
—> make to do list for the week
—> make errands list for the week
HOME PREP
—> do laundry and put away
—> go through mail
—> clear the clutter and put away the piles
—> check in with your budget & pay the bills
—> clean out your inbox
KID PREP
—> review school forms, sign & return
—> prep clothes for the week
—> get backpacks cleaned out and packed for new week
Work your way through each category, as you do, you'll start to get into a grove of when you do each thing throughout the weekend.
One tip to make this list a little easier? Enlist some help. There's no reason family members can't pitch in. Have the kids prep their own lunches and lay out their own clothes. Maybe your spouse can help with the laundry or be in charge of the budget and bills.
To be honest, most weekends, I follow the checklist with no issues, and every once in awhile, I am not very motivated to get all the things done. And that's when the week falls apart. All it takes is a weekend of skipping my routine to kick my rear to get back to it.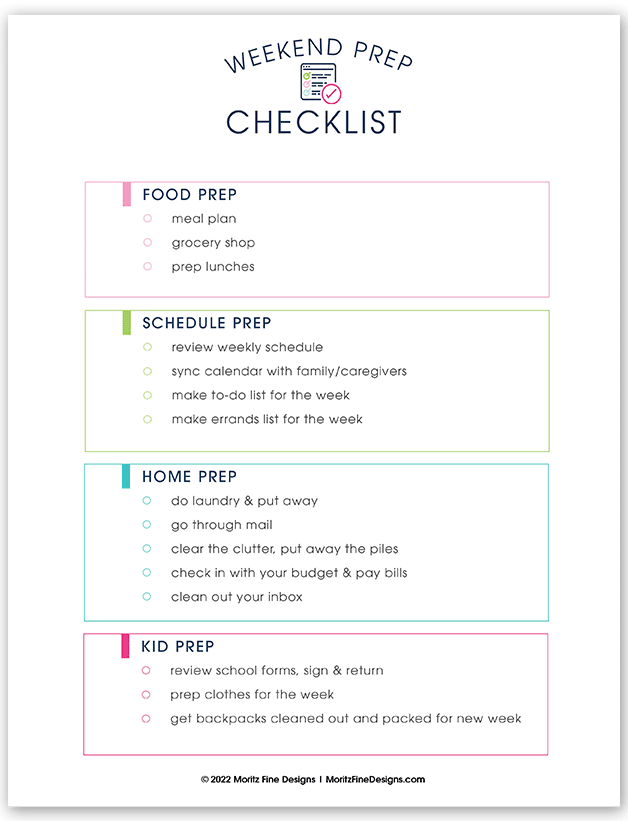 Get Started
Looking at this list may seem a little bit overwhelming, and honestly, until you create these things as a habit, it is a little overwhelming. Instead of trying to go all in, start simple. Each week tackle one category. If you can master it, the following week add in another category of tasks.
Are you ready to get started? What are you waiting for? Go get the Weekend Prep Checklist now!
IT IS POSSIBLE TO
ENJOY STRESS FREE HOLIDAYS THIS YEAR!
The holiday season can be downright exhausting. We have too many things to do and not enough time to get them done. The 2023 HOLIDAY PLANNER will not only help you get organized, but will also help melt away that holiday stress so that you can actually enjoy the season!