Christmas Prints Home Decor
It's the most wonderful time of the year. . .almost! And you know what that means, it's time to start decorating! Aside from your major decor items, like your tree and your mantle, there are so many ways to decorate throughout the rest of your house, both easily and inexpensively!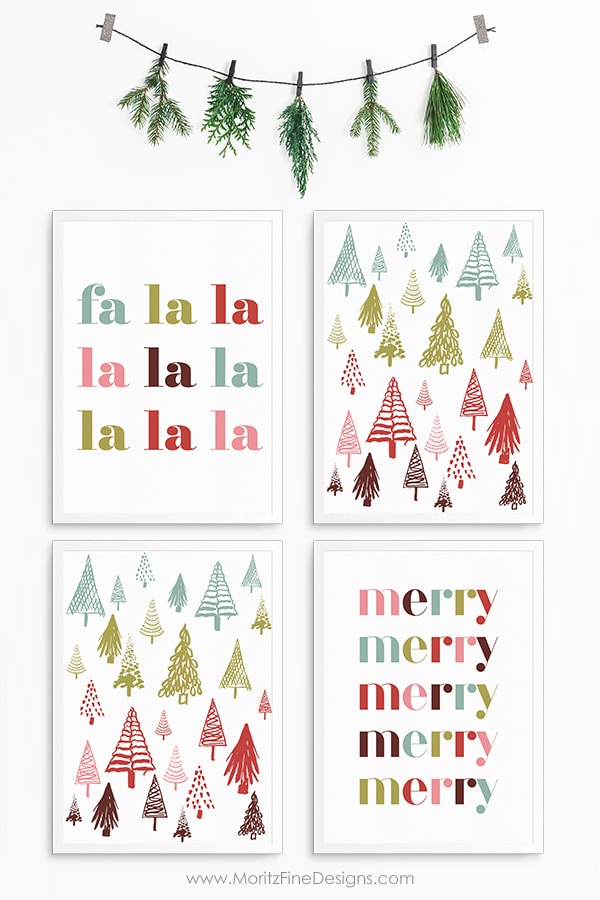 Free Christmas Prints Home Decor
SUPPLY LIST:
Christmas prints (download at the bottom of the post)
cardstock (you can use regular copy paper, however the color will be a bit more muted and not as crisp and bright)
8×10 picture frames
Use the link at the bottom of the post to download the Christmas prints. There are 3 prints included in both color and black and white. If you would like to display the prints in a set of 4, simply choose which print you would like to print out twice.
I suggest printing on cardstock in order to get the brightest, boldest, most professional looking print. Also be sure to set your printer settings to print at the highest quality.

Next, pop the print into some cute frames and viola, you are ready to transform part of your home into Christmas in just a few minutes.
Because you are only going to want these prints up for a short amount of time during the holidays, I highly recommend hanging the frames with 3M Command Picture Hanging Strips. Easy up and easy down with no damage to your walls.
Truth be told, I tend to use the Command Strips to hang just about any home decor item I can. Because I love to change things up, this is the least intrusive option. Who like to patch nails hoes and repair and re-paint drywall? Let me answer that for you–no one!
Ok, so what are you waiting for? It's time to transform an area of your home into a festive holiday delight!
Don't stop with just these printables, grab our super popular Vintage Christmas Print too!
IT IS POSSIBLE TO
ENJOY STRESS FREE HOLIDAYS THIS YEAR!
The holiday season can be downright exhausting. We have too many things to do and not enough time to get them done. The 2023 HOLIDAY PLANNER will not only help you get organized, but will also help melt away that holiday stress so that you can actually enjoy the season!