A New iPhone Organizer & how to organize your iPhone Apps in folders
Remember how I showed you to organize your iPhone in 5 minutes last month?
Well, shortly after I wrote the post, I was chatting with a friend on Skype and she as asking me about how I organized my phone with the new background and I mentioned putting similar apps in folders. At that point I heard , "what. are . you. talking. ABOUT?!?" Take a peek at the image below.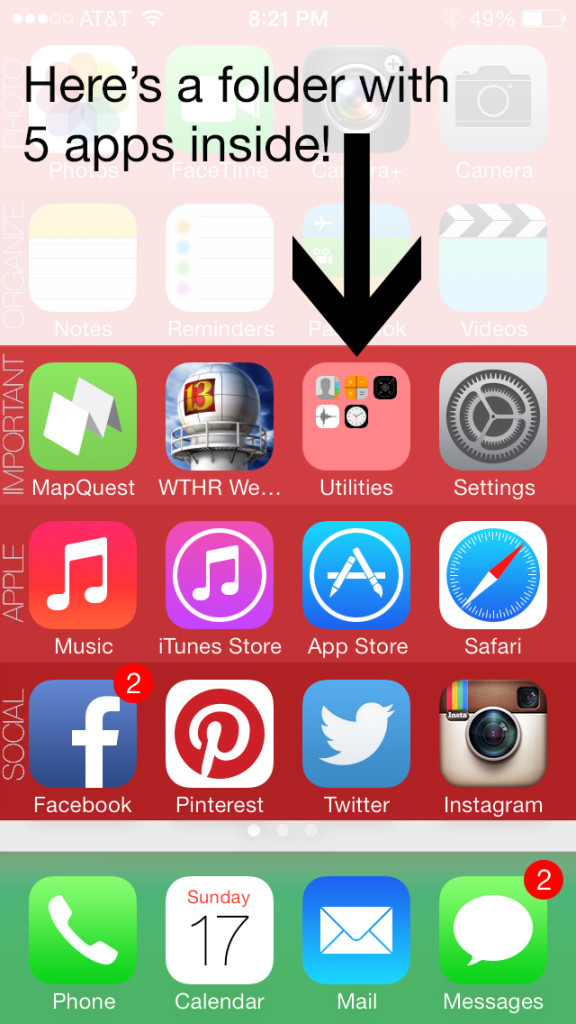 This is EASY! In only ONE MINUTE you can organize your iPhone Apps in folders!
Just watch this quick video I made for you:
I also created some Christmas backgrounds for you to organize your iPhone. If you want other colored backgrounds, you can find them here.
There are 4 easy steps to organize your iPhone home screen:
1. Download (links below) one of the backgrounds you would like to use on your phone.

2. If you want to use the background exactly as you downloaded it, skip straight to step 3. If you want to label your rows, go to Picmonkey, upload the image and add the titles to each box. Then re-save the image.

3. Email the image to yourself and open the email on your iPhone. Save the image to your camera roll (to do this, simply press down on the image until a window pops up with the option to save the image).

4. Go to Settings>Wallpapers & Brightness>click on the home screen image under the heading called "Choose Wallpaper". Tap on your Camera Roll and click the newly downloaded image. You will not need to move or scale the image, just click "SET", then choose "Set Home Screen".

That's it! Click your home button and check out your new home screen!…Go ahead and organize your icons in rows!
PS….When I first saved my image, my phone was STRETCHING it…argh!…There is a quick and easy fix (in case your phone is doing that too!). Go to SETTINGS>GENERAL>ACCESSIBILITY>REDUCE MOTION (turn this to ON). Now it should look perfect!
Green | Green with text | Red | Red with text
IT'S TIME TO
GET READY FOR 2024!
Get organized for 2024 with the easy to use monthly 2024 calendar! Simply opt in below to have the FREE calendar sent straight to your inbox.