Organize your Iphone in 5 minutes!
Because the desktop organizing posts from back in August and earlier this month were such a success, I decided to share another organizing tip!
Let me show you how you can organize your iPhone in 5 minutes!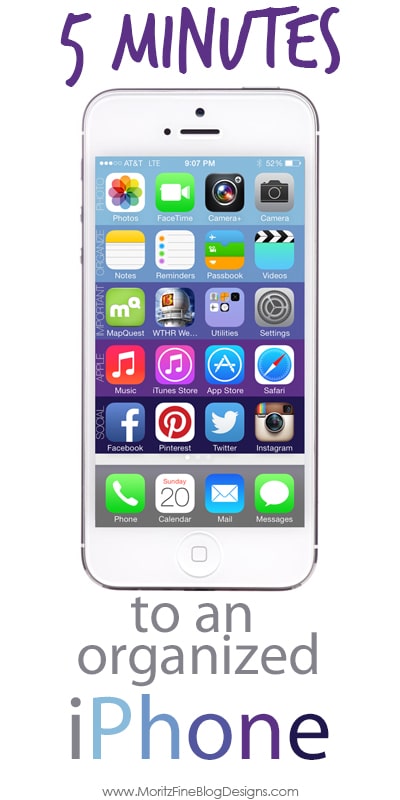 Check out my newly organized home screen for my iPhone! For all you visual peeps, this is a dream come true! It's a quick way to look at your phone and at a glance find something quickly!
UPDATE: new backgrounds for iPhone 6 here and iPhone 7 here.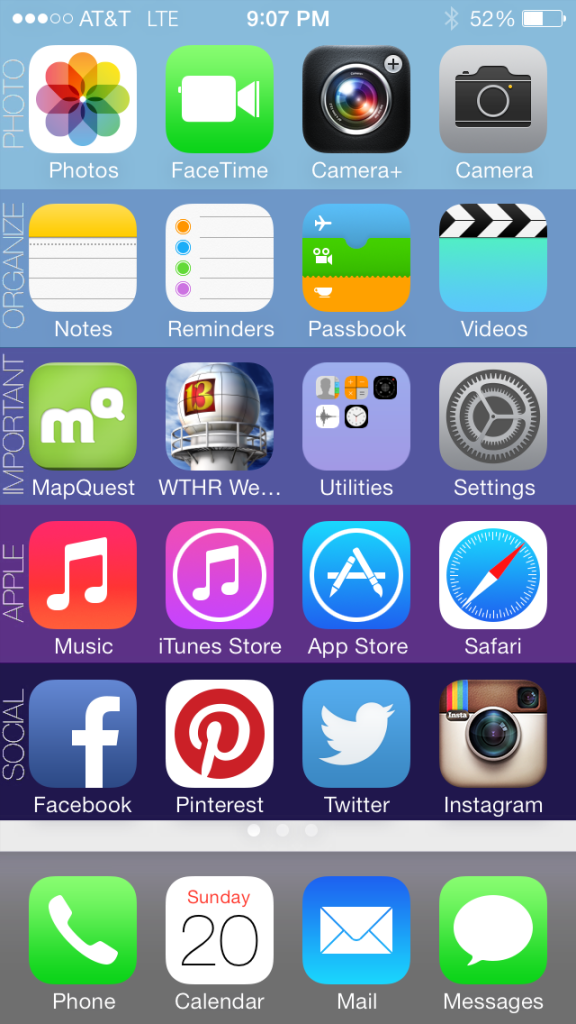 There are 4 easy steps to organize your iPhone home screen:
1. Download (links below) one of the backgrounds you would like to use on your phone. I offered 3 "blank" backgrounds and one that already has the text on it (it's the same one I used in my example):

2. If you want to use the background exactly as you downloaded it, skip straight to step 3. If you want to label your rows,  go to Picmonkey, upload the image and add the titles to each box. Then re-save the image.

3. Email the image to yourself and open the email on your iPhone. Save the image to your camera roll (to do this, simply press down on the image until a window pops up with the option to save the image).

4. Go to Settings>Wallpapers & Brightness>click on the home screen image under the heading called "Choose Wallpaper". Tap on your Camera Roll and click the newly downloaded image. You will not need to move or scale the image, just click "SET", then choose "Set Home Screen".

That's it! Click your home button and check out your new home screen!…Go ahead and organize your icons in rows!
PS….When I first saved my image, my phone was STRETCHING it…argh!…There is a quick and easy fix (in case your phone is doing that too!). Go to SETTINGS>GENERAL>ACCESSIBILITY>REDUCE MOTION (turn this to ON). Now it should look perfect!
Don't forget to keep your phone safe with an iPhone case. I absolutely love mine because it holds my license and credit card–no more purse when I am on quick errands or running the kids to practices and school!
[wpdm_package id=7226]
IT'S TIME TO
GET READY FOR 2023!
Get organized for 2023 with our brand new, easy to use Digital 2023 Planner! Our Planner will help you get organized and stay organized. Oh, and did we mention how pretty it is too? Use code "SAVE5" to save $5 now.