Organize Paper Clutter in 5 Simple Steps
Is your paper clutter taking over your life? Do you have stacks of paper all over your desk, kitchen counters, and covering many surfaces in your home? It's no secret that our homes seem to be taken over by our ever-multiplying piles of paper. Chances are you have more papers than you know what to do with, most of which you don't even need! If you follow these easy steps, you'll organize paper clutter once and for all!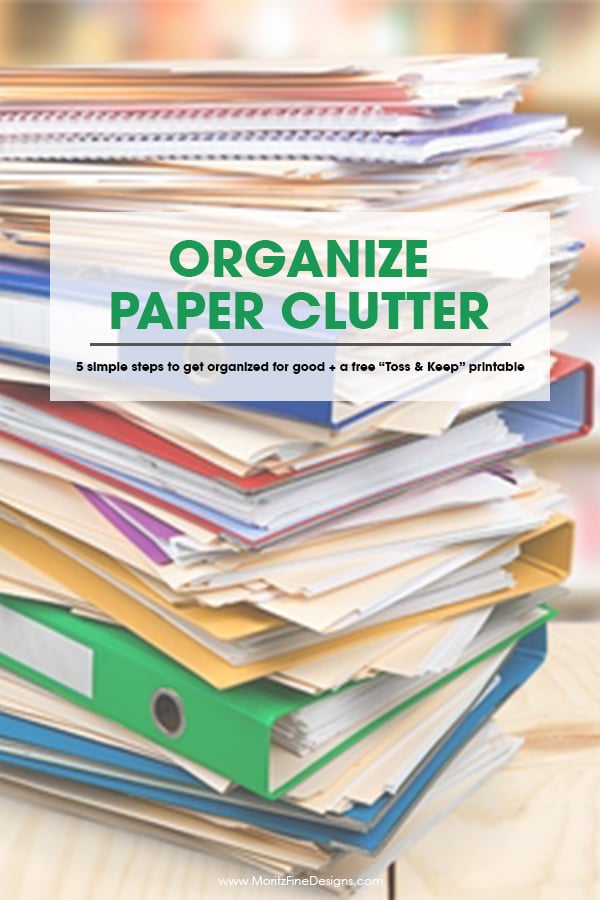 Organize Paper Clutter
Step 1: Setup your inbox
Start by choosing a decorative box or basket to contain any incoming paper. Since you are going to be looking at this everyday, make sure it's something pretty that you like. Personally, I like using this desktop file organizer to organize my incoming papers. Put your inbox in a central location, preferably where most of your paper clutter already is, to help keep things from piling up on the countertops or tables.
Step 2: Gather loose paper
Next, it's time to gather all that loose paper from around your home. Start by putting it in one central location to be sorted, like your shiny new inbox! Don't worry about doing any sorting right now, we'll do that in the next step.
Step 3: Sort it out
Now it's time for the hard part, sorting your paper mess. Start organizing each item by category, this will make it much easier to sort through. After you've sorted it by category, start by getting rid of anything you don't need. Keep a recycling bin handy, as you will likely have a ton of paper in this category! If you're unsure whether or not to keep something, here's a cheat sheet (download at the bottom of the post):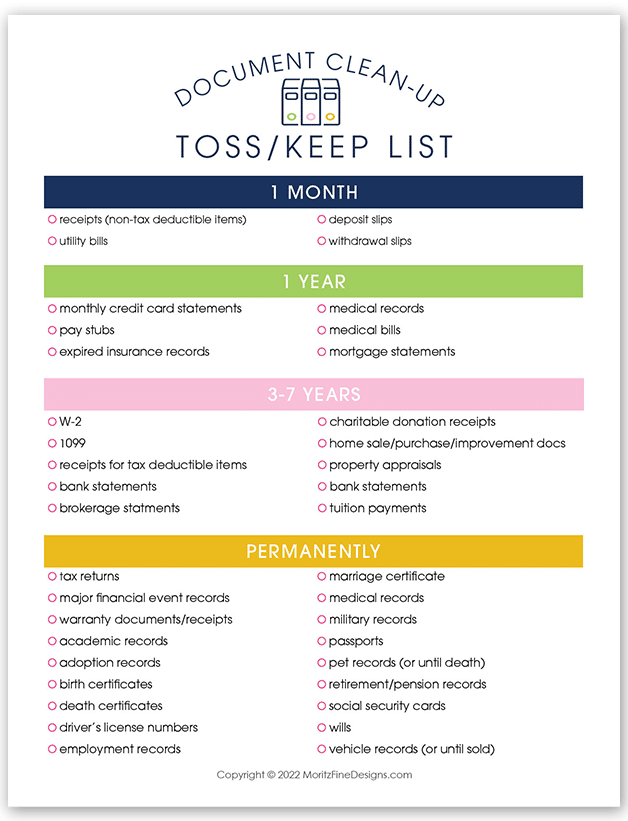 After getting rid of the things you don't need, it's time to find a proper way to store the things you plan to keep. Here are some helpful tips!
Receipts: If you need to hold on to receipts to be scanned or for budgeting purposes,

collect all your receipts in a jar

until you have time to sort them.

Tax Documents: Tax documents are probably some of the hardest to organize since you never know

how long to keep them

! Here is a

great organizing system

for organizing your tax documents.

Children's Papers & Artwork: As parents, we end up with hundreds of pieces of artwork from our kids. However, I think we can all agree that we don't need to keep EVERYTHING. Start by limiting your kid's artwork to only the both you and your children truly love. Then, organize it in bins by

following this tutorial

.

Medical Records: Medical records probably need to be held on to for most of your family's lives depending on what they are.

Scrapbook and Crafting Paper: If you do a lot of scrapbooking, then you know just how much paper you could end up with. Start by sorting through your scrapbook and crafting supplies to get rid of any items you won't use then store this rest using this

sorting system

.
Step 4: Go paperless
One way to help reduce the amount of paper clutter in your home is to take advantage of paperless options for sending information. Many banks, schools, and even credit card companies have the option for going paperless. This is usually something you can set up online through their website, and sometimes you even get a discount for going paperless. For items in your home that are important but are in paper form, opt to scan items into PDFs to save on your computer just in case you need them. This document scanner works great for scanning documents directly to cloud storage!
Step 5: Go through your inbox
You should be checking your paper inbox once a week at a minimum. Make time every week to go through your inbox. This will keep it from overflowing, and make sure you take action on any documents that require it.
That's it! If you keep up with your inbox, you'll never have to deal with massive piles of paper clutter again. If you're looking to declutter the rest of your home, check out 40 things you can get rid of here, or how to declutter your kitchen here.
IT IS POSSIBLE TO
ENJOY STRESS FREE HOLIDAYS THIS YEAR!
The holiday season can be downright exhausting. We have too many things to do and not enough time to get them done. The 2023 HOLIDAY PLANNER will not only help you get organized, but will also help melt away that holiday stress so that you can actually enjoy the season!