Holiday Planner & Organizer for 2023
The holidays are a time for family, friends and fun. But they can also be a stressful time of year! Let's face it—the holidays are crazy busy. Between shopping, cooking, traveling and more—it's easy to get overwhelmed.
I mean, isn't the reality that we want to have our menu plan done? Our grocery list made out? Our shopping done with the packages all set to be delivered on time? Oh and maybe, just maybe we could even get our wrapping done before Christmas Eve! Making it possible to enjoy a nice family moment in front of the fire instead of frantically trying to get all the things done.
Many years, this is what I envisioned in my head and many years this is not what actually happened.
The reality is that for most of this is not the case. Here's reality.
We forgot a gift or two. Now we are very last minute trying to find something on Amazon with one day shipping.
We remembered that we never brought any baked goods to the new neighbors down the street.
And once again, you ran out of tape—in the middle of wrapping all the presents.
So, do we have our act together? Um, no.
It was out of desperation that I finally created the Holiday Planner!
If you want to enjoy the holiday season instead of stressing out about it, then you need an MFD Holiday Planner! It includes everything you need to plan your holiday so that it's easier than ever before. You'll have peace of mind knowing that all your bases are covered from start to finish with this planner.
Check out how the 2023 Holiday Planner will allow you to have a more enjoyable holiday season.
Here is what the Holiday Planner includes: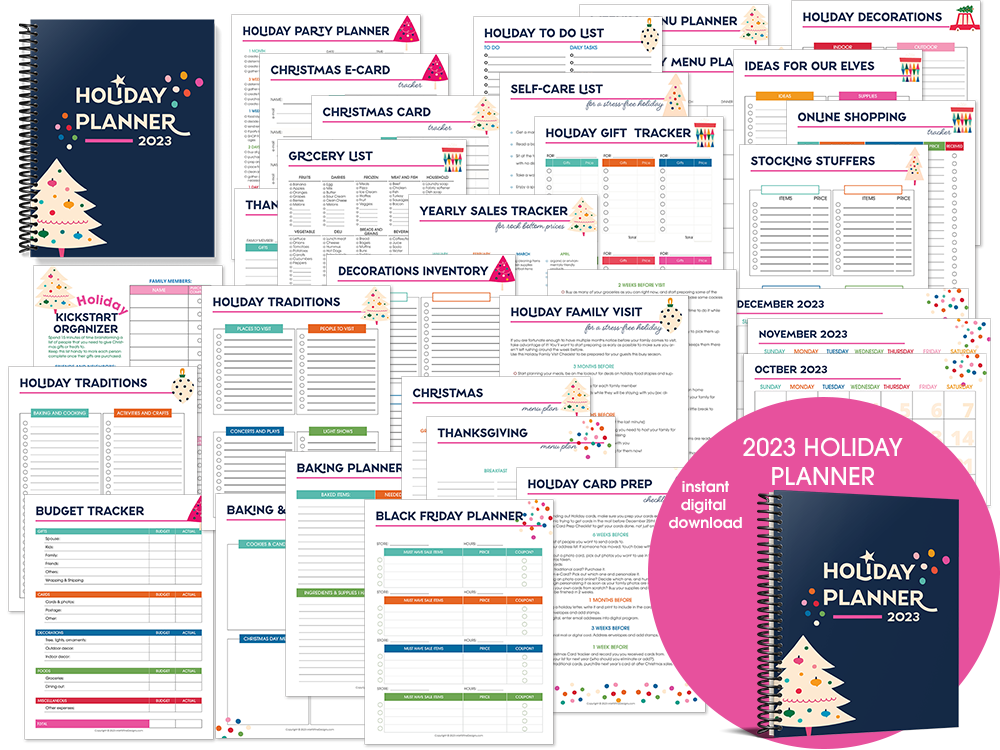 Kickstart Organizer – Each year, my husband and I sit down at the table and figure out what we are going to get each person on our list. This handy printable helps make sure we have a plan for everyone on our list. It also gives us a few backup ideas in case one of them doesn't work out. I love this list because it helps me keep track of all my ideas.
Calendar – October through December 2021 calendars will help make sure you don't miss a single Christmas concert, movie, or family get together all season long. I like to print two copies and leave one in my purse and one on the fridge to make sure I don't miss a thing!
Budget Tracker – We tend to splurge during the holidays, but don't want to go over budget. This budget tracker is broken down by category to help you plan for everyone on your gift list. It can keep you on budget for everything from food to decorations to gifts.
Holiday To Do List – Avoid forgetting to do something during the holiday crazies! Keep a running to do list of all your must-do holiday tasks.
Self-Care List – Don't forget to schedule time for yourself to refuel and feel refreshed. You won't regret it.
Yearly Sales Cycle – You can't live without this! When you are looking to buy gifts at the best price, this Yearly Sales Cycle guide is the best reference.
Black Friday Tracker – Whether you prefer to shop from your couch or brave the stores, don't miss this Black Friday tracker. This tracker helps keep track of all the sales and make a game plan. It includes a place to add in the time the store will open, what you are shopping for, and if there are any coupons.
Family Visit Checklist – If you are hosting anyone this year, preparing for their arrival is the most stressful part of your holiday for sure! No matter what your timeline is, we've included a checklist by month to help you plan ahead for your guests.
Holiday Card Prep Checklist – Get your holiday cards ready with this step by step guide to create best Christmas card ever.
Christmas Card Tracker and E-Card Tracker – My family loves sending Christmas cards, but it can be difficult to figure out how many to order and who they're going to. This tracker ensures you never lose a card in the mail or email, and that you are sending a card to everyone on your list this year.
Holiday Gift Tracker – I tend to start picking up Christmas gifts in September, so the Gift tracker is the best way for me to remember what I have purchased and spent for each family member.
Menu Planner for Thanksgiving & Christmas – Doesn't it feel like we spend almost half of our holidays in the kitchen? It makes perfect sense to have a menu planner in the planner! The menu planners are perfect for making sure all meals are planned in advance and that everything you need gets on a grocery list.
Baking Planner – Neighbors and teachers, parties and so many more people to bake for. Create a game plan and tackle all the baking with ease!
Master Grocery List – Never forget another item at the grocery store when you use this master list. Add to it all week long and grab it when you head out to shop.
Holiday Party Planner – Use the countdown to-do list to make your party a success. Also keep track of your guest list, shopping list and budget.
Online Shopping Tracker – An easy way to keep track of everything you purchase online and when it will get delivered.
Stocking Stuffer Tracker – The best way to keep a list of who gets what and costs.
Holiday Traditions – The best way to keep track of of traditions from baking and cooking to events.
Ideas for Your Elf – Keep track of your Elf on the Shelf ideas and supplies needed all month long.
Decorations & Inventory Tracker – Never forget what you have and what decorations go where!
Thank you Card Tracker – While this may seem outdated to some people, I love sending thank you cards. It's the perfect way to make sure I'm practicing gratitude this holiday season, and my family and friends love getting them! I've also include a thank you card template for you to get you started.
The holidays are almost here, so don't forget to download your holiday planner today! Start preparing and organizing yourself for a less stressful and more enjoyable holiday season right now.
IT IS POSSIBLE TO
ENJOY STRESS FREE HOLIDAYS THIS YEAR!
The holiday season can be downright exhausting. We have too many things to do and not enough time to get them done. The 2023 HOLIDAY PLANNER will not only help you get organized, but will also help melt away that holiday stress so that you can actually enjoy the season!