2017 Holiday Organizing Planner
Have you ever thought about having a picture perfect holiday season– you know, with Christmas music playing in the background, presents wrapped and under the tree weeks before Christmas day and the kids all helping make the baked goods? Or have you ever wondered why some people have all their Christmas shopping done before December even hits the calendar while others are struggling just to make a list of gift ideas?
We all want to have our holiday menus planned in advance, to have the shopping done by Black Friday, to get the house decorated without anyone complaining they have to help. We even want to get our Christmas cards in the mail before December 24th! Reality is that the holiday season can feel overwhelming and exhausting. Is it even possible for use to enjoy the season in the midst of all the things that need to get done?
Believe me, I've felt the same way.
Many a holiday season I felt like I was spinning my wheels.
I'd take far to many trips to the store and come home only to realize how many items I forgot to purchase while I was out.
I would receive Christmas cards from people that I unintentionally forgot to mail a card to.
I would be scrambling to find a teacher gift the night before school let out for winter break. I felt like a hot mess!
And that's how the Holiday Planner was born!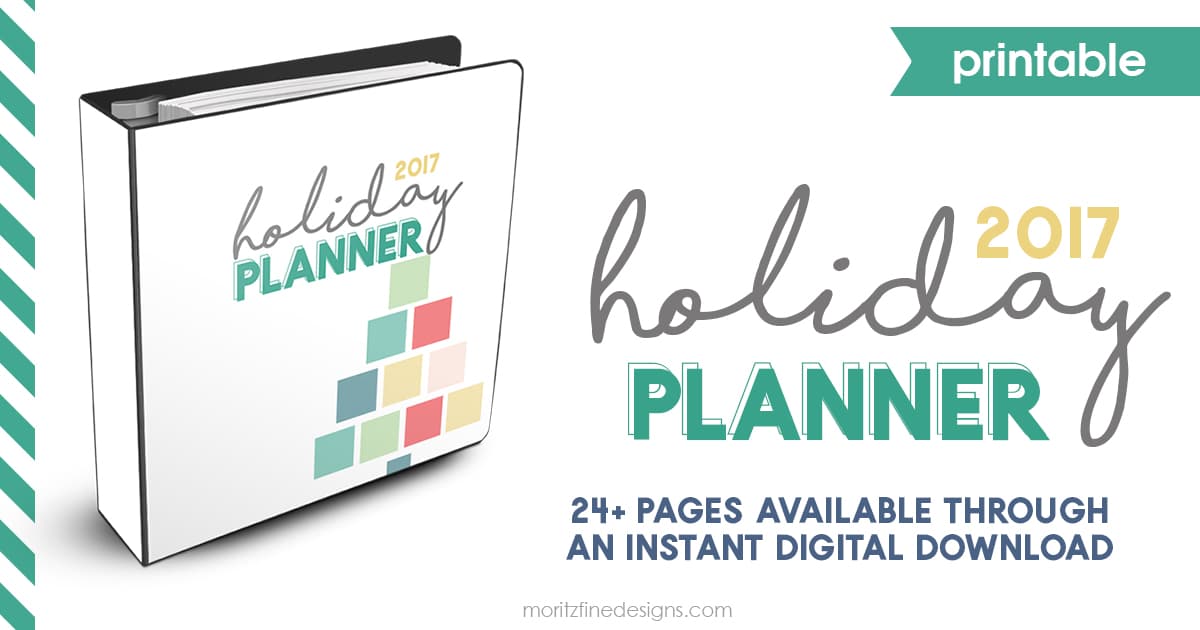 The 2017 Holiday Planner will all you to have a stress-free holiday season. You'll learn not only plan ahead, but how to get more done in less time and feel a sense of peace and accomplishment.
It is possible to have an (almost) picture perfect holiday season, and the 2017 Holiday Planner will show you how.
Here is what the 2017 Holiday Planner includes:

Kickstart Organizer – Each year, my husband and I sit down at the table and figure out what we are going to get each person on our list. This handy printable helps make sure we have a plan for everyone on our list and also gives us a few backup ideas in case one of them doesn't work out. I love this list because it helps me keep track of all my ideas.
Calendar – October through December calendars will help make sure you don't miss a single Christmas concert, movie, or family get together all season long. I like to print two copies and leave one in my purse and one on the fridge to make sure I don't miss a thing!
Budget Tracker – We tend to splurge during the holidays, and it's hard to resist the adorable dollar bin section at Target during this time of year. Our budget tracker is broken down by category to help you plan for everyone on your gift list, and keep you on budget for everything from food to decorations.
Holiday To Do List – Avoid forgetting to do something during the holiday crazies! Keep a running to do list of all yo holiday tasks.
Self-Care List – Don't forget to schedule time for yourself to refuel and feel refreshed.
Yearly Sales Cycle – You can't live without this! When you are looking to buy gifts at the best price use this reference this Yearly Sales Cycle guide.
Black Friday Tracker – Whether you prefer to shop from your couch or brave the streets this year, don't miss this Black Friday tracker. This tracker helps  keep track of all the sales and make a game plan. It includes a place to add in one time the store will open, what I'm there for, and if I have any coupons.
Family Visit Checklist – If you are hosting anyone this year, preparing for their arrival is the most stressful part of your holiday for sure! No matter what your timeline is, we've included a checklist by month to help you plan ahead for your guests even if you only have a few days before they arrive.
Holiday Card Prep Checklist – Get your holiday cards ready with this step by step guide to create best Christmas card ever.
Christmas Card Tracker and E-Card Tracker – My family loves sending Christmas cards, but it can be difficult to figure out how many to order and who they're going to. This tracker ensures you never lose a card in the mail or email, and that you are sending a card to everyone on your list this year.
Holiday Gift Tracker – In our family, we buy for extended family. This means a lot of gifts are going back and forth throughout the holidays. This is why I made sure a gift tracker made it's way into my holiday planner for you guys. This tracker is especially useful for those of you who like to get started shopping early so you don't forget who you've already purchased gifts for.
Menu Planner for Thanksgiving & Christmas – Doesn't it feel like we spend almost half of our holidays in the kitchen? Then it only makes sense to have a menu planner in our planner! The menu planners are perfect for making sure all our meals are planned in advance and that I have everything I need to make my family dinners.
Baking Planner – Neighbors and teachers, parties and so many more people to bake for. Create a game plan and lose the overhelm.
Master Grocery List – Never forget another item at the grocery store when you use this master list. Add to it all week long and grab it when you head out to shop.
Thank you Card Tracker & Thank You Cards – While this may seem outdated to some people, I love sending thank you cards. It's the perfect way to make sure I'm practicing gratitude this holiday season, and my family and friends love getting them! I've also include a thank you card template for you to get you started.
The holidays are almost here, so don't forget to download your holiday planner today! Start preparing and organizing yourself for a less stressful and more enjoyable holiday season right now.
IT IS POSSIBLE TO
ENJOY STRESS FREE HOLIDAYS THIS YEAR!
The holiday season can be downright exhausting. We have too many things to do and not enough time to get them done. The NEW & IMPROVED 2022 Holiday Planner will not only help you get organized, but will also help melt away that holiday stress so that you can actually enjoy the season for a change!