Free Printable Bill Tracker
That moment when you get your cable bill and you see there is $10 tacked on for paying last month's bill a day late. Oh, it makes you mad and that extra $10 is a steep penalty!
We've all done it a time or two…missed paying a bill on time. Thankfully if you are typically never late in paying your bills, most companies will remove the late fee with a phone call to customer service, but who wants to waste 20 minutes on the phone working your way through some automated system only to finally get to talk to a customer service representative?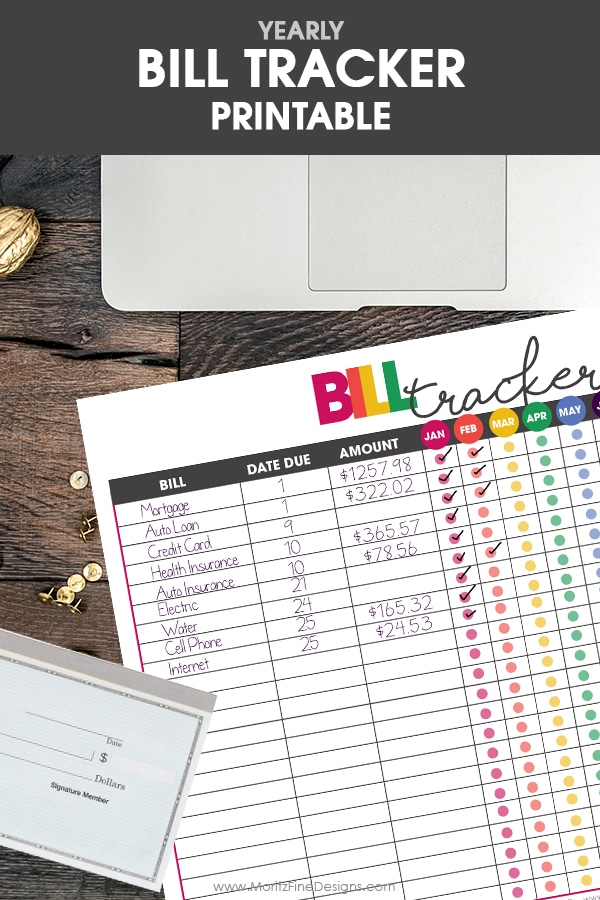 Free Printable Bill Tracker
Keeping track of your income, expenses and bills can allow you to be financially successful. The free printable Bill Tracker is a super simple system that allows you to keep track of all of your monthly bills, when they are due and track when you have paid them each and every month of the year.
How to use the Bill Tracker
After downloading the free printable Bill Tracker below, write down every bill you receive on a monthly basis. It might be easiest to look through your bank statement or check book to see who all these companies are.
Be sure to include the due date of when your bill is due every month. Did you know that if you don't like the date your bill is due, you can call the company and request to have it changed?!?
Some of your bills (ie., mortgage, auto loan, insurance, etc.) will consistently be the same amount every month, if so, add the amount to the tracker. If your bills vary from month to month, leave the amount space blank.
As you pay bills, check off when you have paid each bill. Keep in mind bill due-dates and give yourself enough buffer to make sure you pay each bill early enough so it is received on or before the due date. Thankfully, many of you use bill pay through your online banking system and many of those bills can be paid within 24 hours.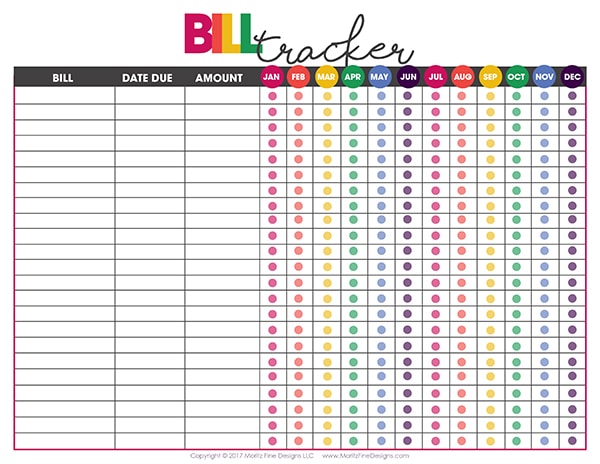 Want to stay financially organized? Start gathering all of the free financial printables I provide for you and create aFamily Finance Binder! This entire month is focused on finance! Here are the free financial printables so far:
Bill Tracker (download below)
IT'S TIME TO
GET READY FOR 2024!
Get organized for 2024 with the easy to use monthly 2024 calendar! Simply opt in below to have the FREE calendar sent straight to your inbox.