Printable Dog Grooming Tracker
Do you feel like you blink and it's time to get your hair done or a manicure or even your eyebrows waxed?! The same is true for our dogs.
So often we can't even believe that our dog has so much hair it's covering their eyes–but didn't they just get groomed? Or Maybe it just feels like like it!
Dog Grooming Tracker
So when did the dog get groomed last? Without using a Dog Grooming Tracker, we find ourselves fumbling through our calendars searching and searching for when the last appointment was.
The Dog Grooming Tracker is the perfect addition to our Pet Mini-Organizer. This organizer helps you keep of all things related to your pet. If you previously downloaded the Pet Min-Organizer, add this to it. If you have never downloaded the organizer before, I've added it in for you!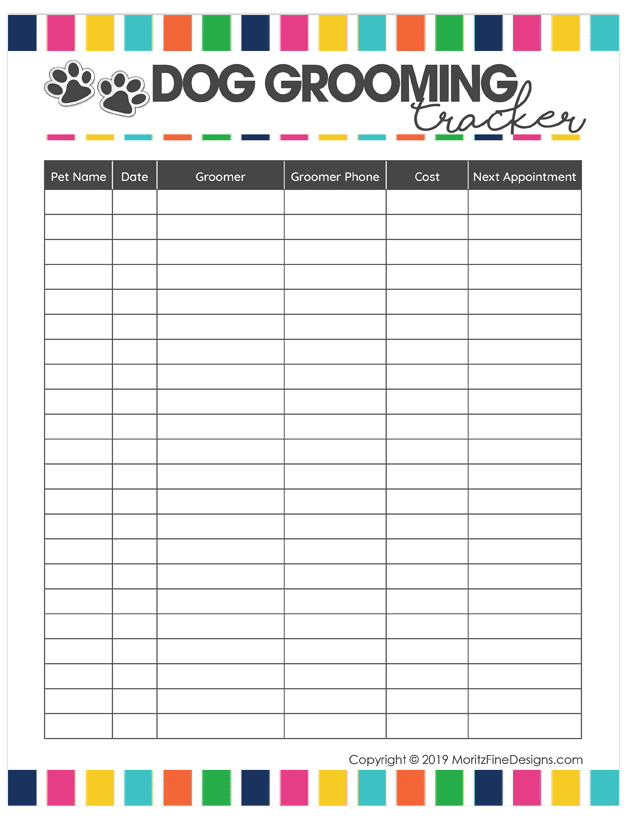 You can use the Dog Grooming Tracker to keep track of:
date your dog was groomed
name of groomer used
groomer contact information
cost
next appointment date
The Dog Grooming Tracker is the perfection option for keeping all the important information in one place, however do you need an all-in one system to keep your all your records in order? The Life Management Binder is the one system to track of everything in one location. Join the thousands of others who currently use the system to contain all their record keeping at arms length.
IT IS POSSIBLE TO
ENJOY STRESS FREE HOLIDAYS THIS YEAR!
The holiday season can be downright exhausting. We have too many things to do and not enough time to get them done. The 2023 HOLIDAY PLANNER will not only help you get organized, but will also help melt away that holiday stress so that you can actually enjoy the season!