Printable Sermon Notes for Kids
Do you remember sitting in church as a kid and feeling all squirrel-y? I remember drawing on the bulletin, counting the lines in the ceiling paneling, and trying not to giggle when my brother would do something funny. There came a time when I should have and could have paid more attention to the sermon than I did because I just couldn't stay focused…or maybe I didn't know how to stay focused on the sermon.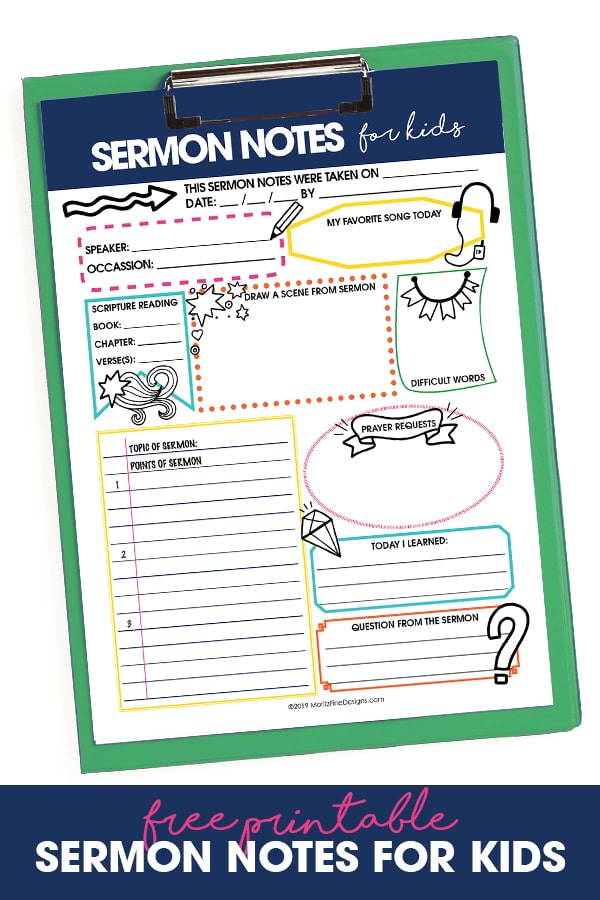 Printable Sermon Notes for Kids
This simple Printable Sermon Notes for Kids is the perfect template to keep on hand for your kids to use every Sunday. Even if your kids can get one thing out of the sermon, it's better than getting nothing out of it at all! The Sermon Notes help kids start to focus a bit. Here are a few things it will help them do:
find the passage the pastor is preaching on in the Bible
learn who the speaker of the day is
pick out their favorite song from the service
ask questions about things they didn't understand
pick out one thing they liked during the service
decide what the key point of the sermon is (even if it's not right, they'll find something, and that's ok!)
allow them to have a little doodling time while still grasping what is going on in the service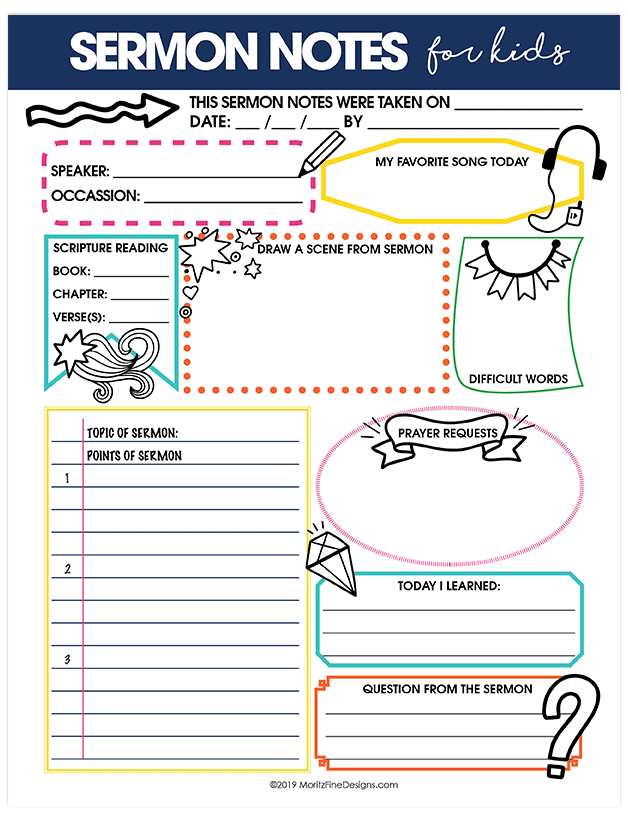 The Sermon Notes for Kids are the perfect thing to use to transition your kids from not paying attention at all to grabbing a few bits and pieces of information and then to ultimately start to take notes on their own in their early to mid teen years. It's perfect for kids ages 7-12. If you have kiddos younger than this age, and they want to try it–let them! They might adapt to it really well and love it.
Get the download for free by using the download button below.
PS. You might want to try another fun activity with your kiddos! Check out the 30-Day Acts of Kindness Challenge or even these Bible Memory Verses for Kids.
IT'S TIME TO
GET READY FOR 2024!
Get organized for 2024 with the easy to use monthly 2024 calendar! Simply opt in below to have the FREE calendar sent straight to your inbox.