Printing Basics 101 | Printable FAQs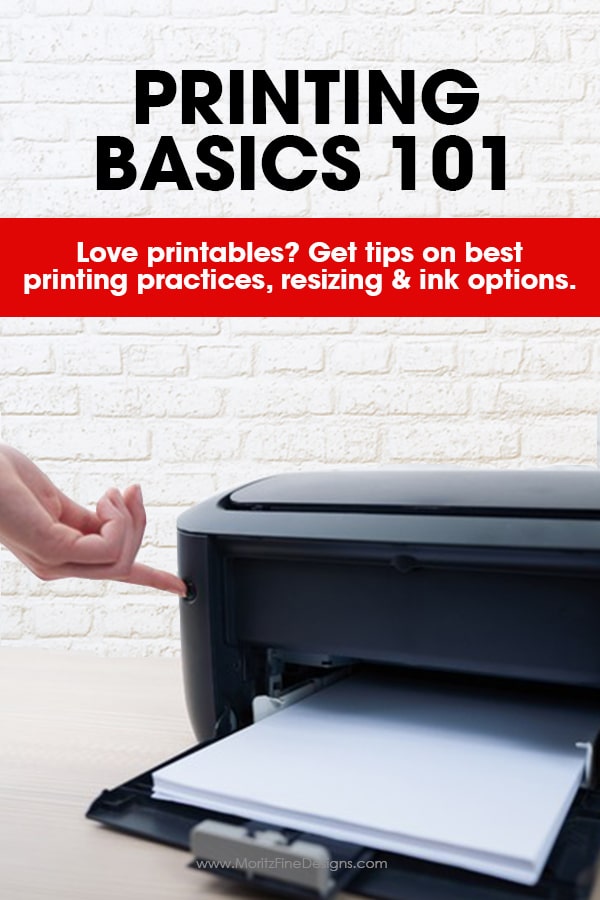 Free Printables. This blog is full of hundreds of  free printables and every so often one of you sweet readers finds they have trouble getting something to print. I've compiled a list of the most frequently asked questions to try to help you all solve any printing PDF questions you may have!
Printing PDFs
The printables on Moritz Fine Designs are all saved as PDFs (portable document format). You can open up any PDF in the Adobe Reader. It's a free program that you can get HERE.
BASIC INK OPTIONS
Typically, once you open your document, you can just hit print and get the printable without a problem, but depending on what you are using your printable for, you might want to change the quality of print. For example, printing out my favorite Daily Task Organizers, I'll choose draft print to use less ink. If I am printing a a printable for wall decor, I'll choose the "best" option.
(These days, I don't even bother changing the print quality, because I use the HP Instant Ink Program due to the immense value! I pay a low monthly price of $5 per month, print like crazy and when my ink runs low, HP automatically sends me new cartridges. You can find out more here.)
If you would like to change how much ink you are using for each print, follow this sequence when printing from Adobe Reader:
Select print>PRINTER (bottom left corner of print screen) >PRESETS and choose one of the options listed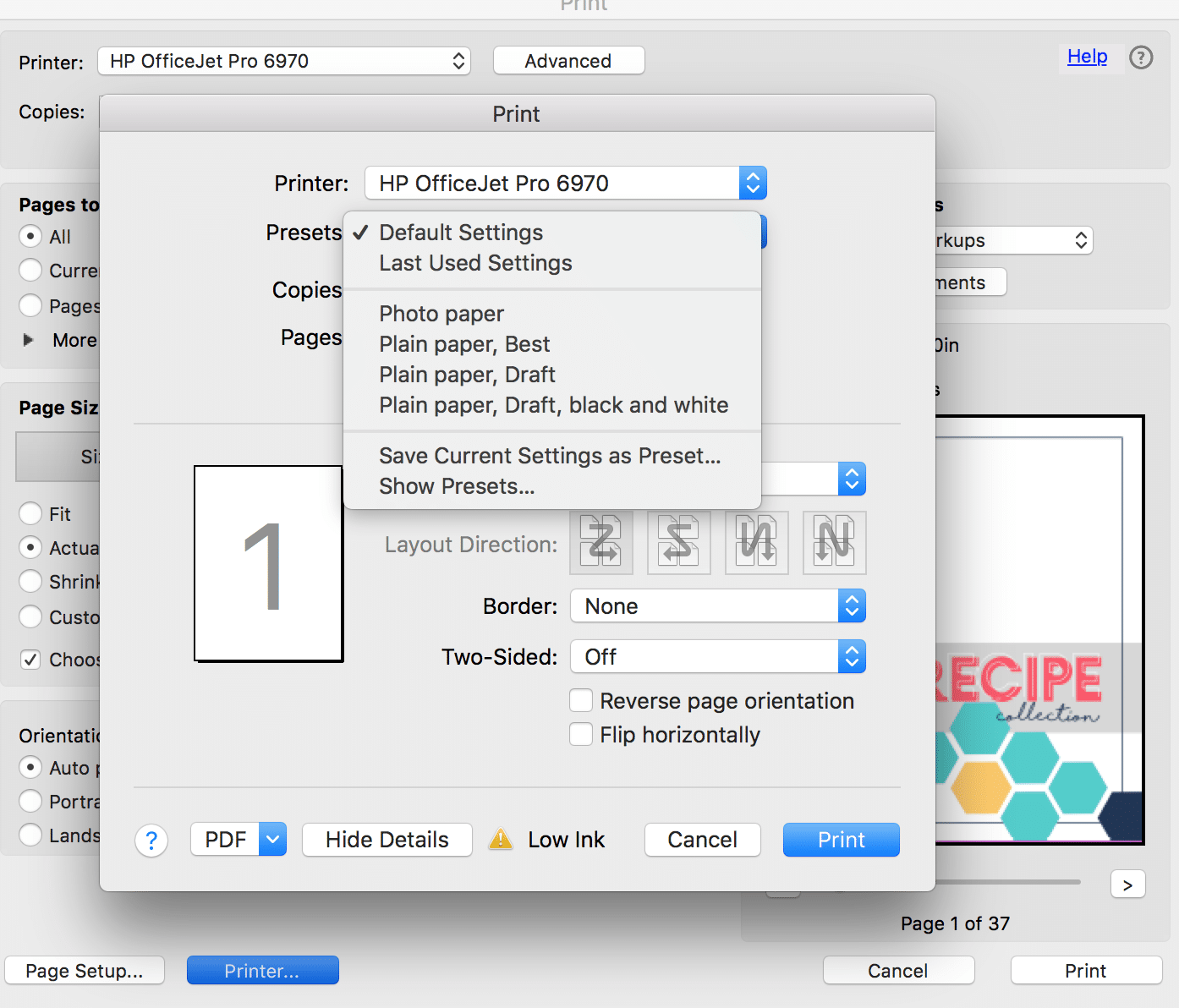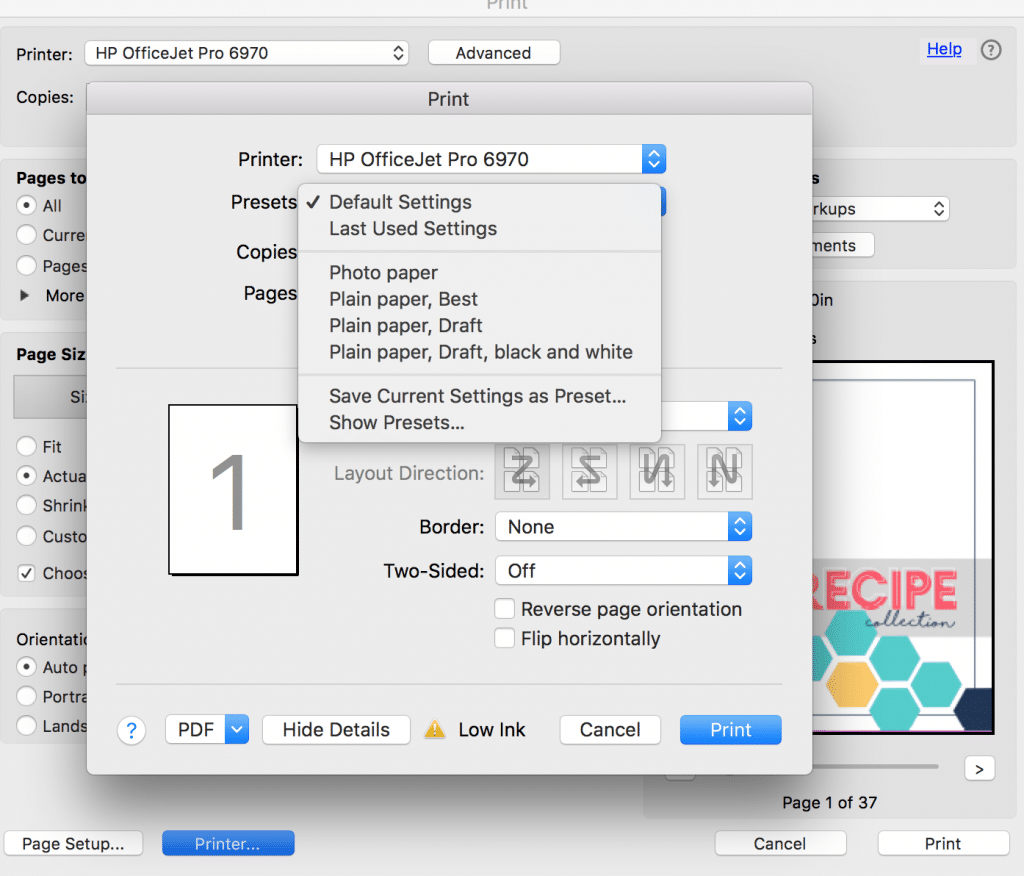 PAPER TIPS:
I switch out my paper according to what I am printing:
BORDERLESS PRINTING:
Many of the printables I create have an image that runs off the "edge" of the page as part of the overall design. The default of most printers is to shrink the image to fit the page, leaving a small quarter-inch border. If you would like the design to print borderless, you will need to adjust your printer settings.
Each printer functions a bit differently, so you might have to refer to your manual OR better yet, contact your printer's customer service. They are happy to assist you with a little problem solving.
RESIZE YOUR PRINTABLE
Sometimes you might want to change the size of your (maybe you use a smaller planner or even mini binders). If you want to resize, follow these steps in Adobe Reader:
Click PRINT to open the print settings, then click PAGE SETTINGS at the bottom of the print window.
Select the paper size you would like to use, in this example we will use half size, select OK.
Under Paper Page Size & Handling, select "fit". Under Orientation, select "Auto portrait/landscape."
Click print and trip of the excess to fit whichever paper size you chose to print.
PRINTING OTHER PLACES: copy shops or online
It's always an option to print your download at a local copy shop or online location. Check your prices. For local printing, I have used Staples Copy Centers and the UPS Store. The UPS Store tends to be less expensive. In general, have found print shops to be expensive, which is why I print at home on the cheap.
You basic home printer (this is my favorite inexpensive option) mixed with the tools of Adobe Reader creates a combination of unlimited resources and amazing design possibilities. Don't be afraid to play around with the settings for the paper, ink and size options to get exactly what you are looking for.
IT'S TIME TO
GET READY FOR 2024!
Get organized for 2024 with the easy to use monthly 2024 calendar! Simply opt in below to have the FREE calendar sent straight to your inbox.