10 Experience Gifts to Give This Holiday Season + Free Printable Gift Certificate
As we near Christmas and gift giving holidays, the stress and overwhelm of finding the perfect gift starts to ensue. Sometimes even our most well intended gifts end up causing stress and clutter for the receiver. Most of us have entirely too much stuff in our home, which makes gift giving holidays a challenge for the receiver and the giver!
While I love and enjoy giving gifts to loved ones, I don't want to feel like I am burdening them with more stuff. If you feel like you're in a similar situation, then you may want to consider gifting experiences instead of physical gifts! Here are 10 experience gifts to give this holiday season!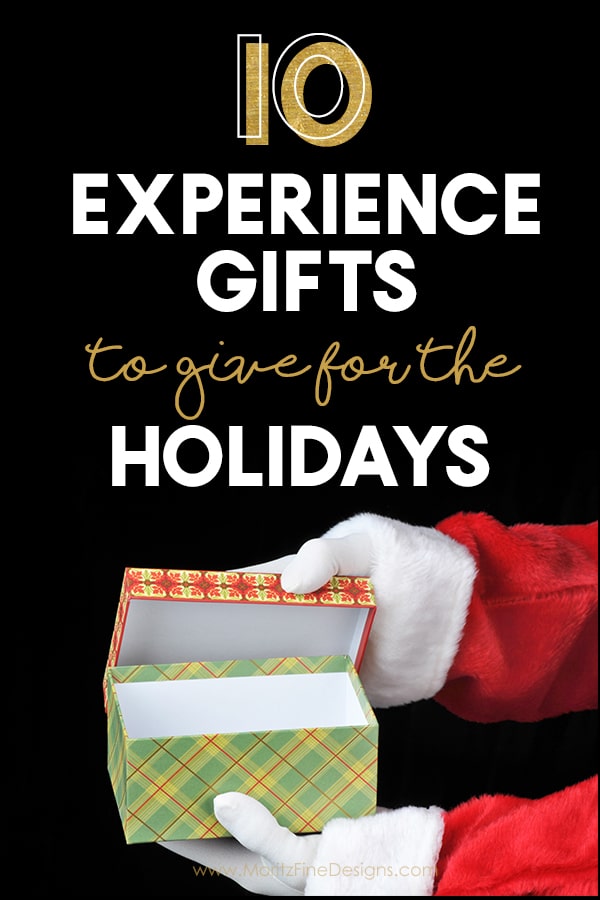 10 Experience Gifts to Give for the Holidays
MEMBERSHIPS & SUBSCRIPTIONS
Whether it be a gym membership, Netflix subscription or even an Amazon Prime membership these make perfect gifts! This could give them the opportunity to try out a new service, or even help save them money! It won't add to the clutter in their homes as this was something they were going to be using anyway!
TICKETS
Does your brother like baseball? Does your wife enjoy attending plays? Tickets are great experience gifts, and they don't need to cost a lot of money. If you're on a tight budget, you can find great deals on Groupon or even through your local theatre. You can even take this gift a step further and make it an activity you do together.
GIFT CERTIFICATES
This one might sound like a last resort gift, but this can be a really well thought out gift. A gift certificate to a spa or nail salon could give that special lady in your life the opportunity to relax. This can be great for people who normally don't treat themselves! A gift certificate to the movies is another great idea! This one works for anyone and any age!
You can use the free printable gift coupons below for any of these gift experience ideas. Download the coupons at the bottom of the post.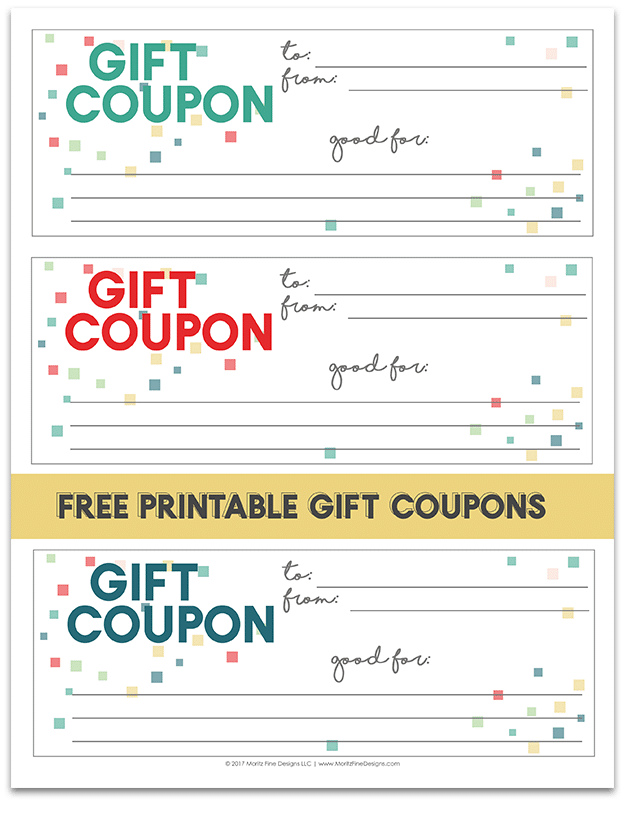 SEASON PASSES
If there is a theme park, zoo, or museum nearby, a season pass for the family is a great experience gift! They can enjoy their gift all year long, which will last far longer than any physical gift will. When shopping for an experience gift, check the surrounding area and see if there is a season pass that your gift receiver might be interested in.
ACTIVITY TO DO TOGETHER
Is there an activity or something your gift receiver really likes to do? Is there a way the two of you could enjoy this activity together? Spending quality time together is one of the best gifts you can give someone. They will appreciate you taking the time to do something they enjoy, and you'll get to spend quality time with them.
GIFT OF YOUR TIME
Giving the gift of your time can be one of the best gifts you'll ever give! Use the free printable gift certificate (grab it at the bottom of this post) to make the gift more meaningful too! Some ideas that your loved one might enjoy are:
Babysitting

Car wash

Yard work

Doing chores

Day off from having to cook dinner

Breakfast in bed
CLEAN THEIR HOUSE
If you are looking for the perfect gift for a mom or housewife, look no further than offering to clean their home! Homemakers spend hours trying to keep their homes clean. If you don't want to be the one to do it, you could get them a cleaning service for the day. They will really appreciate this gift, and it will give them time to just relax.
PAY FOR A CLASS
Does someone you know take yoga classes? Have your kids always wanted to take karate? A class is one of the best gifts you can give someone! It's the gift that will keep on giving every time they go! Whether it's a class you can do together or not isn't important, but make sure it's something they can realistically commit to. You don't want to spend the money signing them up for a class they can't even make it to.
MAKE A DONATION
Is there a charity or organization they feel strongly for? This could make the perfect gift for them! If your spouse really loves animals or one of your friends recently lost a loved one to cancer, a donation on their behalf could make an excellent gift! There are tons of organizations and charities to choose from. Here is a list of some of the top ones to pick from.
TAKE THEM ON A TRIP
If you are on a bigger budget, this could make a really fun gift idea. It could be a girls getaway or a trip as a family. If you are planning to do this experience gift, make sure you have the money put away ahead of time. You don't want to risk not being able to take the trip due to financial reasons!
As with all gifts, don't forget that if you are shopping online, be sure to shop through Rakuten! Go to Rakuten, find your store and then purchase your item. You will receive cash back for every purchase and Rakuten will send you a cash back check. During the holidays is when I get my biggest check of the year.
You can still have a merry Christmas without all of the clutter! If you gift any of these 10 awesome experience gifts, your loved ones will still be just as happy but without all the mess and stress of physical gifts.
IT'S TIME TO
GET READY FOR 2024!
Get organized for 2024 with the easy to use monthly 2024 calendar! Simply opt in below to have the FREE calendar sent straight to your inbox.