Stars & Stripes Printable | 4th of July
It's time to start adding that red, white and blue to your home decor. It doesn't have to be expensive or complicated or even over the top. Instead it can be just the opposite–simple, easy and inexpensive.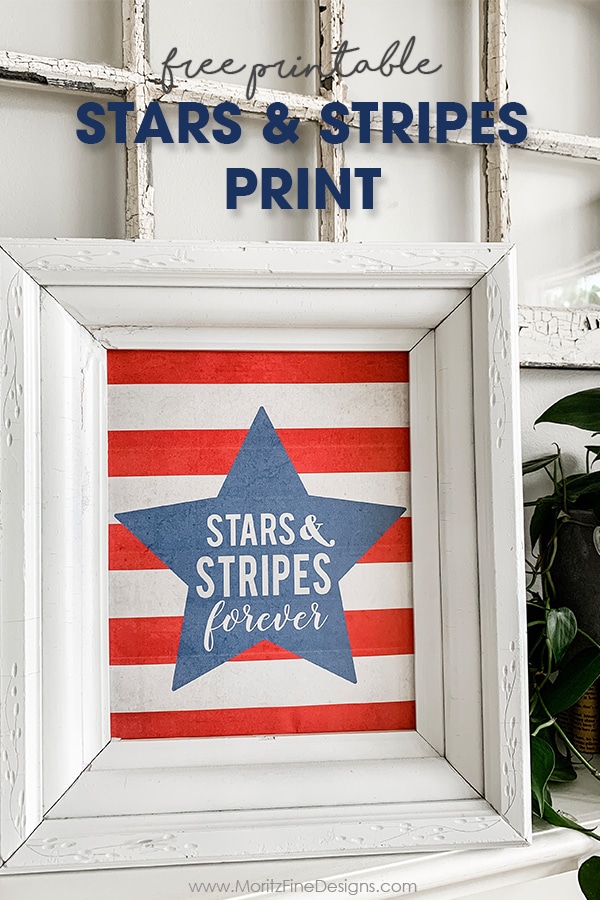 Stars & Stripes Home Decor Print
Stars & Stripes Home Decor Print
Supply List:
Stars & Stripes Home Decor Printable
Nice white card stock
White frame to hang on the walls or prop up on a dresser or find an old antique frame at a thrift shop and spray paint it white.
You can easily, using the download button at the bottom of this post, grab the free printable Stars & Stripes Print to add to your home decor for the 4th of July.
My suggestion, of course, is to grab my favorite white frames. or to hit up your local thrift shop or even your Goodwill store, find a frame and spray paint it white. The simplicity of the frames along with the prints is a perfect combination. If you have card stock on hand, you are ready to print, frame and hang!
Don't stop here! Grab a few other free 4th of July free printables and add them to your home as well.
–The HOME 4th of July Print
–The USA Banner
–Other Quick 4th of July Decor
Now, don't wait another minute–download the Stars & Stripes Printable now:
IT IS POSSIBLE TO
ENJOY STRESS FREE HOLIDAYS THIS YEAR!
The holiday season can be downright exhausting. We have too many things to do and not enough time to get them done. The 2023 HOLIDAY PLANNER will not only help you get organized, but will also help melt away that holiday stress so that you can actually enjoy the season!