21 Day Fix Meal Tracker Printable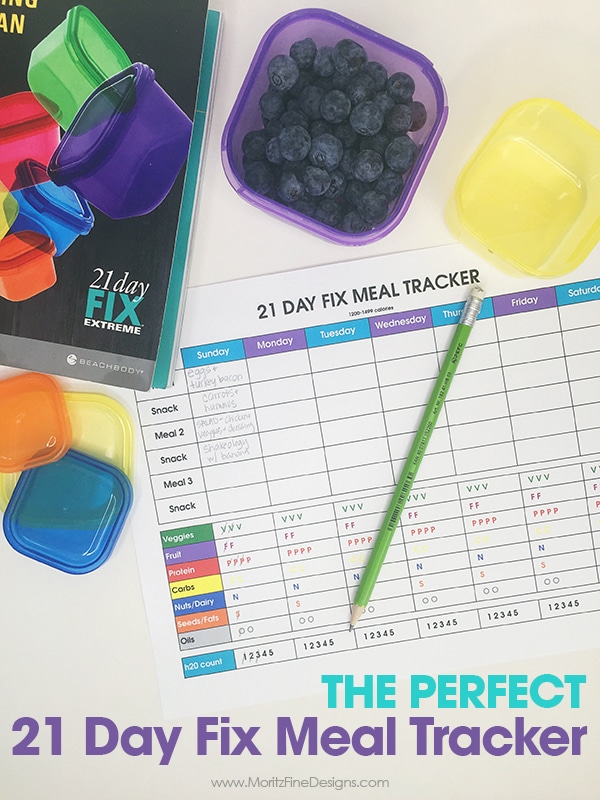 I turned 40….two years ago and wow did things start changing. I had heard it for years and truth prevailed! Along with 40 rolls in some slower metabolism! Oh so sad, but true. No longer could I eat Lucky Charms for breakfast or grab a candy bar in the middle of the afternoon.
Honestly, I didn't experience huge weight gain, but slowly over the past few years some extra pounds creeped on! This year I decided I better take care of this weight gain problem before it got too big to handle.
People all around were raving about the Beach Body 21 Day Fix. I started this workout and eating plan back in January and simply fell in love with it. After my first round, my husband joined in and quickly reached his goal weight. I reached mine after 2 rounds.
Ultimately, what resulted was a bigger awareness of portions and what we intaking. This meal plan has become a way of life for us…we definitely cheat on the weekends, and that's ok! We stick with the 80/20 rule of 80% of the time we follow the plan and the other 20% …well, that's for the weekend!
21 Day Fix Meal Tracker Printable
I found a few meal trackers on Pinterest, but none of them seemed to work quite right for tracking our food and water. I just didn't love any of them. I decided to make my own and love it. It is roomy enough and easy to use. I thought I would share with you!
IT'S TIME TO
GET READY FOR 2024!
Get organized for 2024 with the easy to use monthly 2024 calendar! Simply opt in below to have the FREE calendar sent straight to your inbox.