It happens, we blink and winter is over and spring is on the way. The sun starts shining through the windows, the daylight is so bright in our homes and then we see it! Woahhhh! It's everywhere, the blinds are filled with dust, the windows are incredibly dirty and the dirt under the furniture is having a party!
30 Day Spring Clean Challenge
The dirt is calling your name, but it sure is hard to even know where to begin. Upstairs? Basement? Main Level? Ultimately, it's just easier to avoid it altogether, but we all know that's not the best choice.
If you have a plan, you can tackle that whole house and get the spring cleaning done in no time. It's time for the 30-Day Spring Clean Challenge.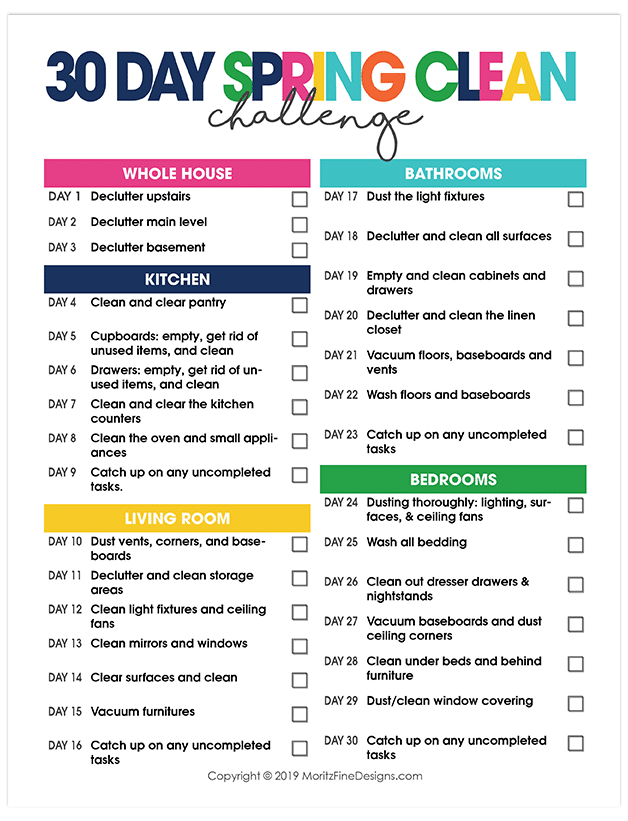 First, grab the printable Spring Clean Challenge to-do list by clicking on the button at the bottom of this post.
Next, be sure to mark you calendar. Write it down, to hold yourself accountable. What's even better, grab a friend or two and decide to take the challenge together! Accountability will keep you on track and not get distracted or make excuses.
Last, be sure to look ahead. Know what is coming each and every day. If there is a day that doesn't take you very long to tackle the task, feel free to start on another task that you know will take you much longer.
Once you get your house cleaned, keep it that way! Use the Weekly Cleaning Checklist to stay on task.