30 Day, 30 Minute Fitness Challenge
Many of us have done it what seems like a million times. We've decided to start a new fitness program, exercise routine or even joined a class at the local gym with good intentions. We start off with a bang and we are diligent about getting our exercise in every single day.
Then week two rolls along and we miss a day or two. By week three…well, you know what can happen.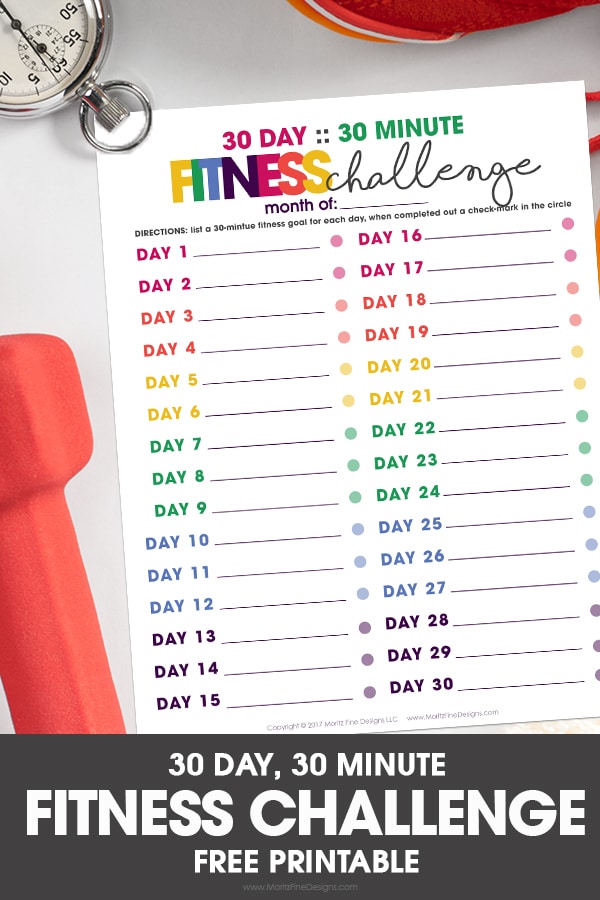 Where's our accountability? Realistically, when we keep track of our goals we are much more likely to succeed. The first step is writing them down.
30 Day, 30 Minute Fitness Challenge
Using the 30 Day, 30 Minute Fitness Challenge is a great place to begin. You can simple make a plan of what type of exercise you would like to do. List it on each day. It could be something like cardio, lifting weights, hiking, biking or even taking a class. When each day's exercise is complete, place a checkmark in the circle.
Exercise Tips
Don't feel like some days you have a solid 30 minutes? That's ok, break it up into a few 10-15 minute segments.
Love a particular TV show? Watch it while doing a cardio machine.
Track your activity. Use an activity tracker to count your steps every day. Continue to increase your goals.
Grab a friend and workout together. You can get in social time and exercise at the same time.
Drink water. Invest in a really nice bottle you will enjoy using. I love these glass water bottles.
Schedule exercise into your daily calendar.
Use the Health & Fitness Planner to keep track of everything from body measurements to water tracking.
Take the 30 Day Challenge using the free printable Fitness Challenge you can download from the bottom of this post.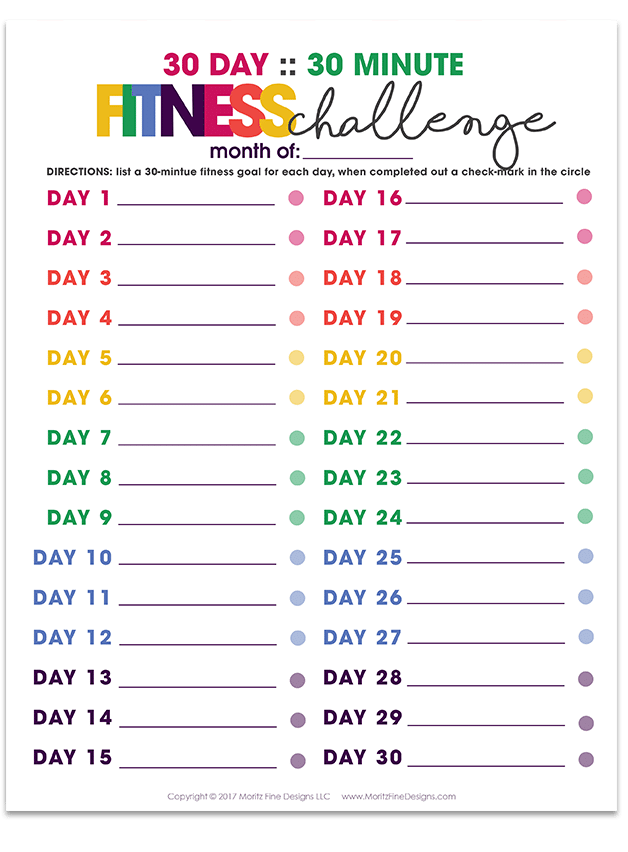 Are you ready to start keeping track of your exercise? Click the button below to get your free Fitness Challenge.
IT IS POSSIBLE TO
ENJOY STRESS FREE HOLIDAYS THIS YEAR!
The holiday season can be downright exhausting. We have too many things to do and not enough time to get them done. The 2023 HOLIDAY PLANNER will not only help you get organized, but will also help melt away that holiday stress so that you can actually enjoy the season!