Chocolate Caramel Gooey Bars
This is one of my favorite bar recipes! It's a combination of yum
my things many of us love to eat, and they are really easy to make too!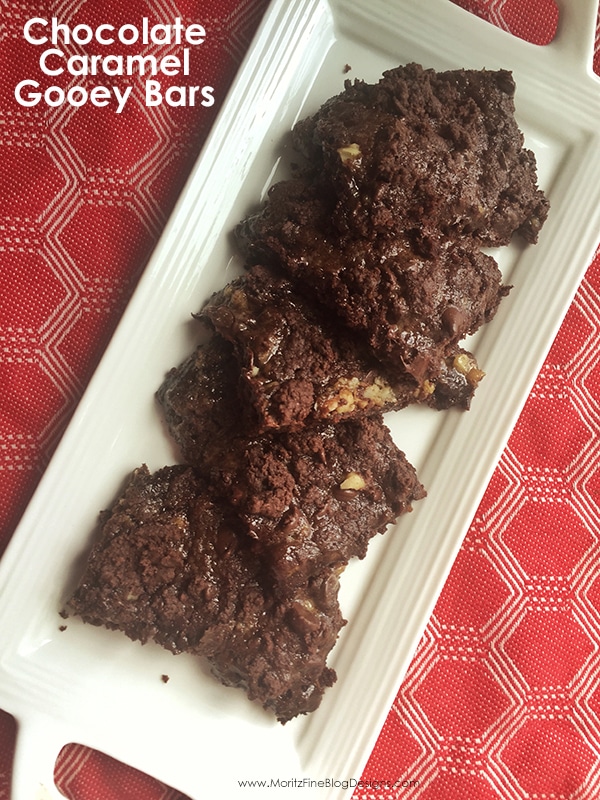 You need to grab a box of German Chocolate Cake Mix, add the butter and an egg and then mix the ingredients together until it looks like taco meat! Silly sounding I know, but that's the best way to describe it. You can see below how it should look.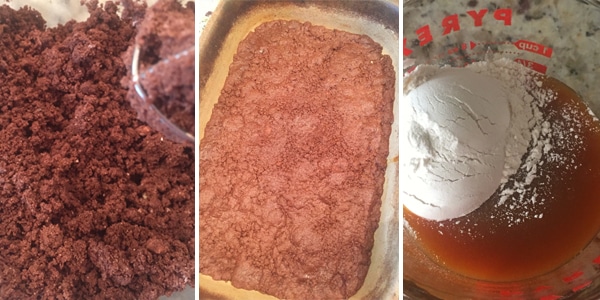 Then, press down all but one cup into a 9×13 pan, bake at 325 degrees for 8 minutes (middle picture). Once it is cooled, layer the chocolate chips, nuts (the recipe calls for walnuts, and I like this best…but I used pecans this time around because I was out of walnuts!) and caramel sauce*. Sprinkle the rest of the "taco meat" mixture on top and bake for an additional 10-15 minutes at 325 degrees.
*To thicken up the caramel sauce, stir in 3 Tablespoons of flour.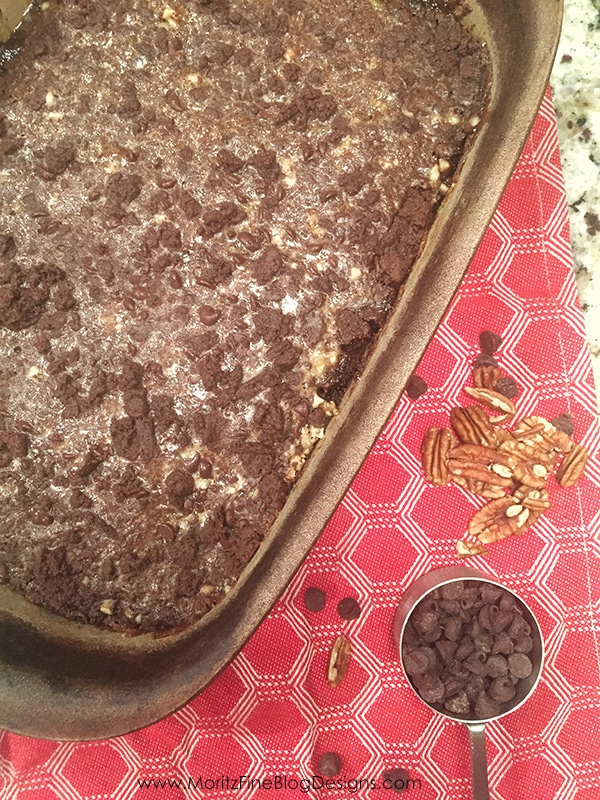 Chocolate Caramel Gooey Bars
Author:
Prep time:
Cook time:
Total time:
Ingredients
1 box german chocolate cake mix
1/3 c. butter
1 egg
1 cup chocolate chips
1 cup chopped walnuts
3/4 cup caramel ice cream topping + 3 Tablespoons flour
Instructions
Beat with a mixer cake mix, butter and egg until it looks like taco meat.
Press all but 1 c. of mixture into bottom of a lightly greased 9×13″ pan, bake at 325 degrees for 8 minutes. Let cool.
Layer chocolate chips, walnuts, and caramel sauce. Sprinkle with remaining cake mixture.
Bake 10-15 minutes at 325 degrees. Let cool before serving.
IT IS POSSIBLE TO
ENJOY STRESS FREE HOLIDAYS THIS YEAR!
The holiday season can be downright exhausting. We have too many things to do and not enough time to get them done. The 2023 HOLIDAY PLANNER will not only help you get organized, but will also help melt away that holiday stress so that you can actually enjoy the season!