Date Night Ideas for Couples
Ahhh, date night! Some of you probably feel like they don't come often enough and others of you feel like date night is every night. I clearly remember when our kids were little and a date night was such a treasure. With three little ones under 3, a date night was like a golden ticket!! And with just a blink of an eye, my husband and I find ourselves completely on our own almost every Friday and Saturday night. How quickly dates have become a dime a dozen as we find our 3 high school boys busy on the weekend nights!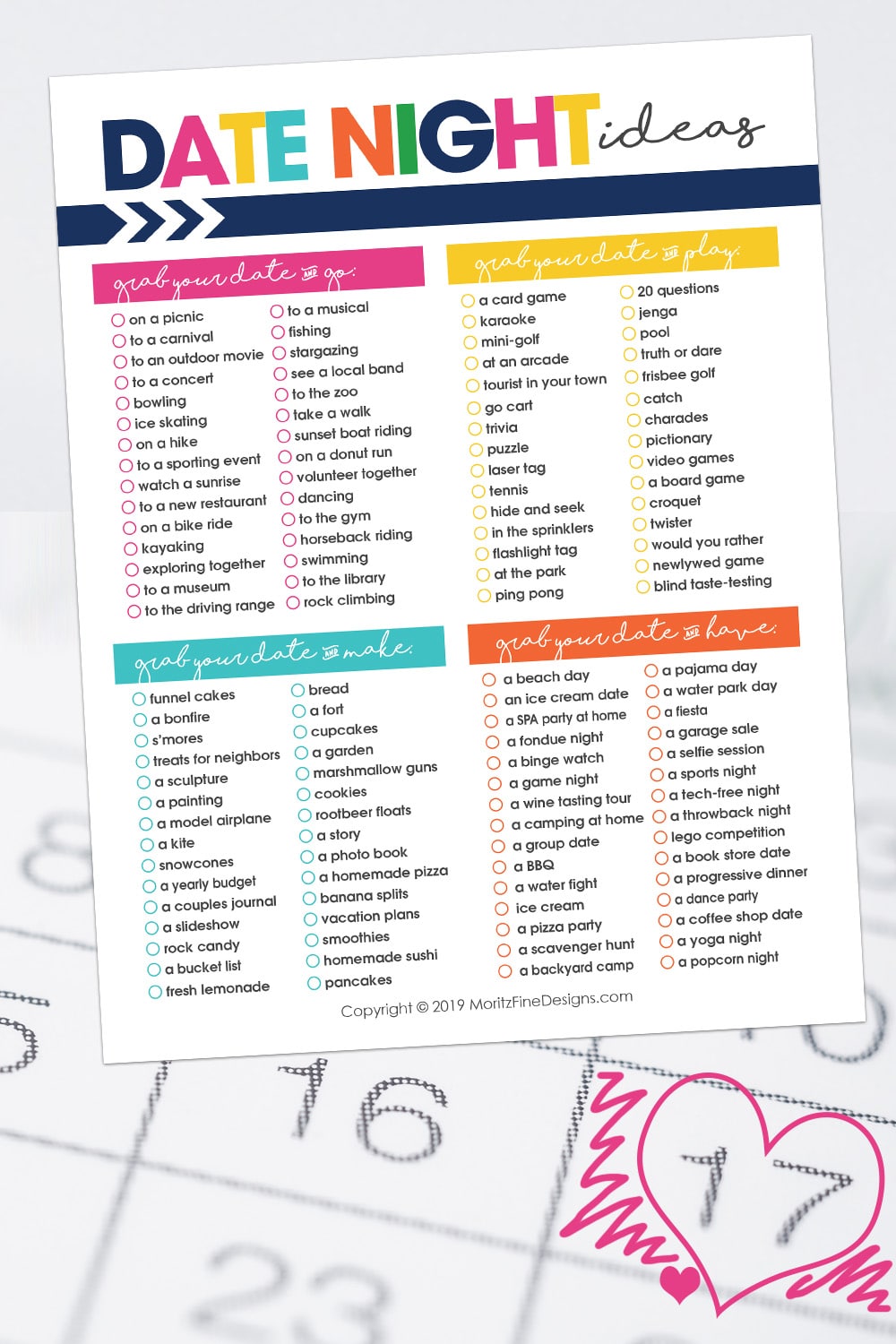 Date Night Ideas for Couples
Whether you get date nights every week or what seems like once every year, trying to decide what to do is not always easy. It might be that your date nights need to be at home after you put your little ones to bed–and what do you at home?
The Date Night Ideas for Couples is a huge list of super fun ideas. The ideas are listed in a few categories: things to do away from home, games you can play, things you can make and things you can have.
Check my top 10 favorite date night ideas:
go on a donut run
have a tech-free night
play truth or dare
make homemade pizza
play tourist in your own town
try a new restaurant
camp at home (use the back yard!)
play frisbee golf
watch a sunrise
Take the ideas and make them work with you and your location. For example, if you don't live near a beach, you may not be able to have a beach day–go find a local lake or swimming hole (this is one of our favorites–our swimming hole has diving platforms, zip lines and more!) instead. Find ways to be creative with the ideas listed!
You could even take some of these ideas for date nights with your kids!
Grab the free printable Date Night Ideas printable by clicking the link below.
IT IS POSSIBLE TO
ENJOY STRESS FREE HOLIDAYS THIS YEAR!
The holiday season can be downright exhausting. We have too many things to do and not enough time to get them done. The 2023 HOLIDAY PLANNER will not only help you get organized, but will also help melt away that holiday stress so that you can actually enjoy the season!