5 Tips for Successful Daycare Days & Free Printable Daycare Report
Choosing childcare for your little one can be an overwhelming experience if you're not sure how to handle all the moving pieces. Many people choose to opt for the traditional classroom setting while others prefer a live-in or part-time nanny. Regardless of which path you decide to take, you're obviously looking for the right caregivers who can enrich your child's life for the better. Below are a few tips to help your daycare journey run smoothly.
5 Tips for Successful Daycare Days (& printable daycare report)
RESEARCH: know their qualifications
It's no secret that some daycares and nannies aren't exactly what they claim to be. You wouldn't go into a job interview unprepared, so don't start your daycare experience that way either.
Are they CPR certified? Do they have any early childhood education training? What are their protocols for emergency situations? These are the kinds of questions you'll want to ask before going forward.
COMMUNICATE: be open and honest about your expectations
When it comes to your children, it's best to be transparent about what you expect. If you've chosen to go the nanny route, make sure he or she understands not only what is expected of them, but how you want your child to learn and develop. Provide a schedule or have a sit down chat about how you want the day to run.
If you're looking for a specific curriculum or learning style, make sure to share that with your child care provider to get precisely what you want. The only way to get what you need is to ask for it directly.
One way to know what's going on each and every day is to request a daily report of the many things your child has done throughout the day. You can have your daycare provider use this "My Day" Daycare Report Sheet (grab it from the download button at the bottom of this post).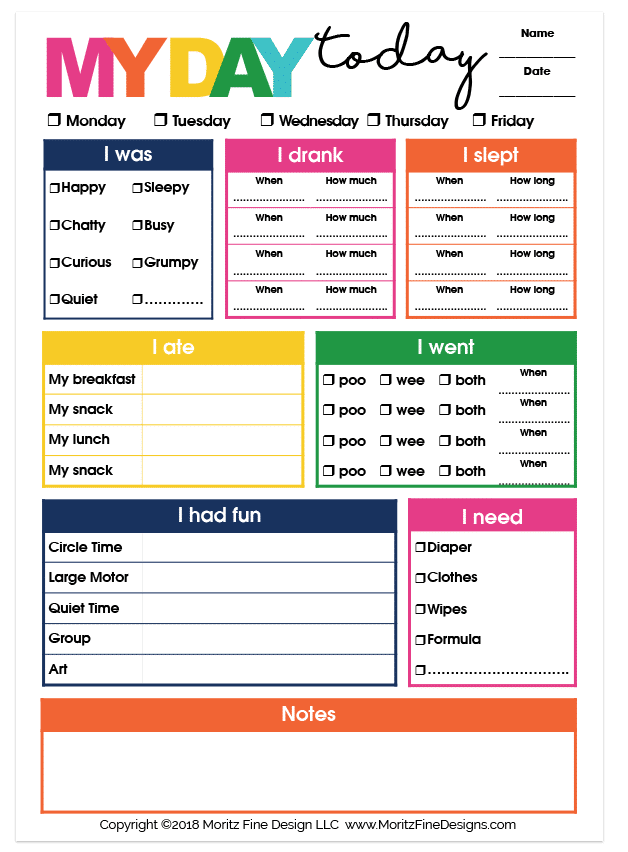 BE FLEXIBLE: work together to achieve your goals
Have you ever heard the old saying, "It takes a village to raise a child"? When you trust someone to care for your little one, you also have to trust that they know and want what's best for them too. If you're working on a new nap schedule that's proving especially difficult, communicate that to your child's caregiver and have them work on it with your child during the day. Chances are, your goal will happen much faster when you have two heads working on it instead of one.
PRIORITIZE: decide what's most important to you
Is your child's daycare near work? Would be closer to be home more convenient for you? Would you prefer your child be raised in your home rather than a separate location? These are the things you need to figure out to have a successful experience. If you're not careful, you could fall into a pattern that stresses you out.
Be honest with yourself about your needs and go from there. There's no shame in getting exactly what you need when it comes to your children.
BE POSITIVE: set a good tone
Any nanny or daycare provider will tell you that things run a lot better when the parents have a positive attitude. Even if you don't realize it, your child is picking up on how you feel about the entire situation. If you're stressed out, your little one will be too. Welcoming this new person or persons into your child's life should be a happy thing, so always reflect that in the way you carry yourself.
Daycare experiences don't have to be complicated. All it takes is a little work and a whole lot of welcoming new people into your life. When it comes down to it, childcare professionals are there to help your child learn and grow. Follow the steps above, and you're sure to have a positive daycare experience for you, and most importantly, your child! Don't forget to grab your free printable daycare report below!
IT'S TIME TO
GET READY FOR 2024!
Get organized for 2024 with the easy to use monthly 2024 calendar! Simply opt in below to have the FREE calendar sent straight to your inbox.