Summer is here and that means your kid's days are a bit more open. The schedule is a little more loose so that there can be more activities added to your kids day.
This extra time is the perfect opportunity to start adding in some chores to the daily routine. This gives your kids the opportunity to possibly learn some new tasks and feel like they share in the household responsibility.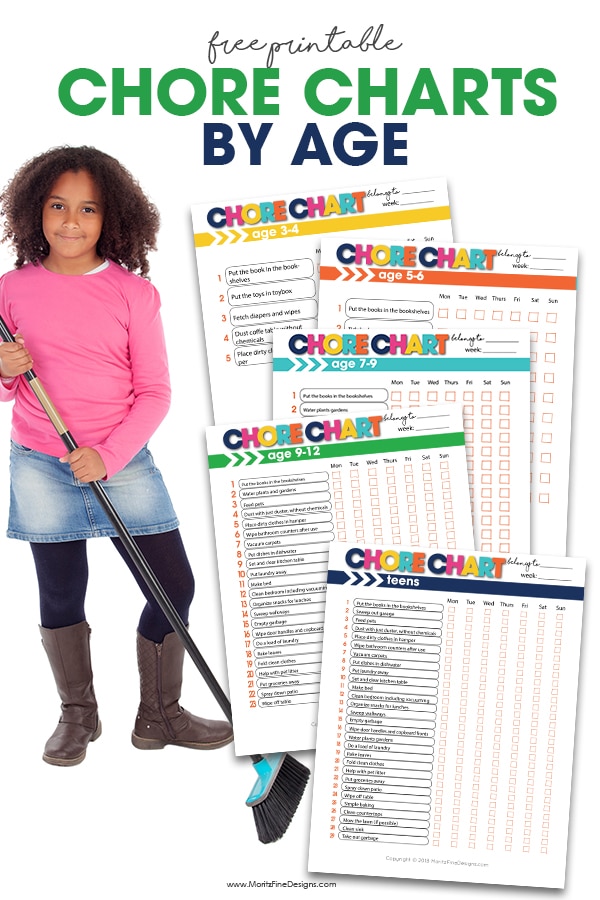 CHORE CHARTS BY AGE
The key to your kids feeling successful in getting their chores done is to make sure they do not to feel overwhelmed by the task ahead of them. A bit of a challenge is ok, but assigning a chore that is too big and daunting can discourage your kids.
I have created a number of chore charts that are age appropriate. The tasks are divided by age.
Starting with ages 3-4 there are basic tasks  your little ones can do. The 5-6 age group gets a few more simple chores added to their list. By the time kids get to age 7-9 a number of more chores are added that require a bit more detail. Ages 9-12 have even more chores that start to teach life skills. The teen chore chart is full of all sorts of chores that any teen is capable of doing.
Every family chooses to set up kid chores in different ways that work best for their kids. Some choose to pay kids for chores and other don't. Finding chore charts that work best are the key. Besides these chore charts by age, you might like some of these other options:
To get your Printable Chore Charts by age, click on the button below.
IT IS POSSIBLE TO
ENJOY STRESS FREE HOLIDAYS THIS YEAR!
The holiday season can be downright exhausting. We have too many things to do and not enough time to get them done. The 2023 HOLIDAY PLANNER will not only help you get organized, but will also help melt away that holiday stress so that you can actually enjoy the season!