For years, I have had our kids take first day of school photos while holding a sign so that I know what year they are going in when looking back at photos.
Not too long ago, I ran across some last day of school photos and I had to guess what year it was! I'm not sure why, but I never had them hold last day of school photo signs. And, I've had lots of requests for last day of school signs!
Last Day of School Photo Sign
These free printable Last Day of School Photo Sign includes signs for Pre-K (with 2 different options)through 12th grade. They are bright, colorful and easy to print out on card stock.
If you want to prep ahead for back to school time, I've got you covered. There is the dated, 3D version and the pennant, which is our most popular back to school photo sign set. You can click on each picture below to bring you to the printable sign sets.
SURVIVE YOUR SUMMER!
---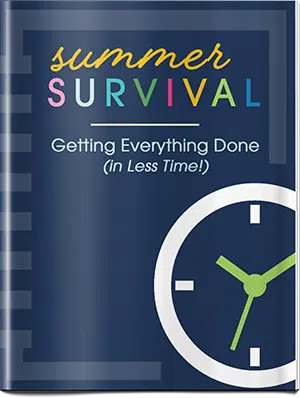 Want to keep your sanity this summer?! Simply opt-in below to get the Summer Survival Guide: Getting Everything Done(in Less Time!) sent straight to your inbox!