First Day of School Photo Sign
The utter embarrassment of teenage boys at 6:30 in the morning while mom is taking back to school pictures will never cease to amaze me! I get comments like this: "Can you do this as fast as you can?", "I can't believe I have to hold this sign!!" and "You are the ONLY mom who makes their kids take these pictures!".
It's truly funny to watch our boys squirm at even the mention of heading out to the front porch to take the annual first day of school photos…just a bit different than our elementary school days when they couldn't wait to grab the backpack, take pictures and hop on the big yellow school bus (the most exciting ride in town!).
Needless to say, mom still rules and makes the photos happen! Of course they have to hold a sign otherwise I would never know 20 years from now what grade they were going into.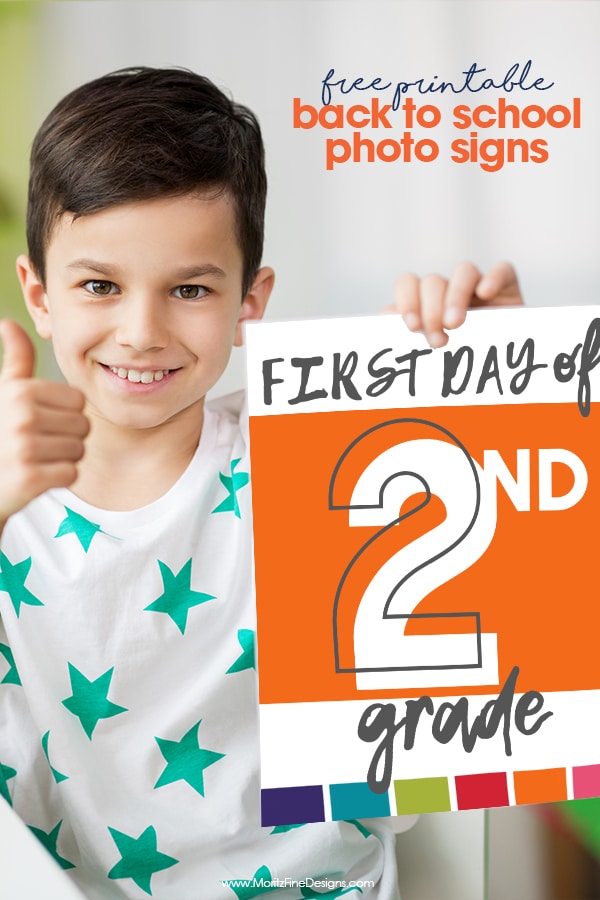 First Day of School Photo Sign
This year's free printable First Day of School Photo Sign includes signs for Pre-School through 12th grade. They are bright, colorful and easy to print out on card stock.

If you are looking for a different style of sign, I've got you covered. There is the dated, 3D version and the pennant, which is our most popular back to school photo sign set. You can click on each picture below to bring you to the printable sign sets.
DON'T FORGET the last day of school! There are last day of school signs to match these first day of school signs! Go grab them here.
IT'S TIME TO
GET READY FOR 2023!
Get organized for 2023 with our brand new, easy to use Digital 2023 Planner! Our Planner will help you get organized and stay organized. Oh, and did we mention how pretty it is too? Use code "SAVE5" to save $5 now.