5 Steps to Creating Achievable Short & Long Term Goals
Did you know that the people who write down their goals and plans are 42% more likely to achieve them than those who don't? We've all heard the most famous and by far the most difficult question, "Where do you see yourself in five years?" For most of us, this question induces a state of panic. Some of you may be thinking five years? I can barely imagine anything past dinner! In this post, I have broken down the five year plan into more manageable steps so you can start the new year off right with your five year plan ready to go!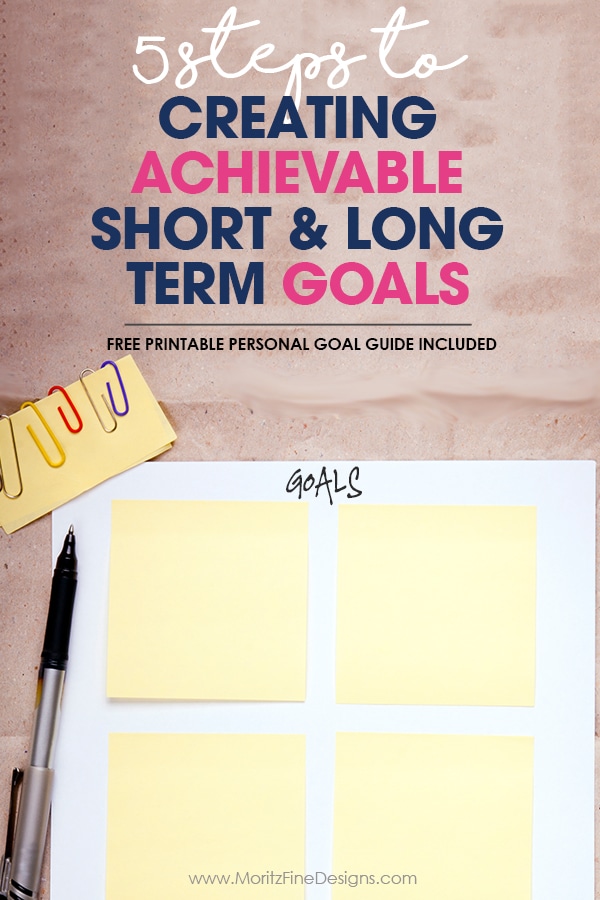 Step 1: Do a Brain Dump
The first step to creating a five year plan is to write down everything you want to achieve in your life. We're not talking about just five years down the road here, but your entire life. Don't be afraid to write down some big goals on here. Do you want to see every US state or visit every lighthouse? Write it down! Now is the time to think up every crazy thing you've ever wanted to do.
Remember to keep in mind everything from financial goals to travel goals, project goals to self-improvement goals.
Step 2: Make A Plan
Now that you've identified all of the things you want to do, take a minute to look over everything you've written down. Think about what is standing in the way of where you are at this moment, and where you want to be. If you want to become a best selling author, your first step might be actually writing your first book. Think about action steps that will get you from where you are now to those big goals you wrote down.
Step 3: Create Milestones
Now that you know what it will take you to get from where you are now to where you want to be, it's time to make some milestones. What are your halfway points or major milestones? Write these down on your timeline. If you are trying to be a best selling author, you probably going to have to write a few books. When creating your milestones think about your timeframe and what are realistic milestones based on your goals.
Step 4: Creating Daily and Weekly Goals
Think about what you can do daily or even weekly to work towards your big goal and your milestones. Rome wasn't built in a day, and you can't expect to reach your five year goals in a day either. If you are trying to become an author, your daily goal may be to write something every day or complete one chapter by the end of the week. Break your milestones and big goals into smaller chunks that you can check off each week. You can use my daily task organizer here to keep you on track.

Step 5: Break It Down
Need even more motivation? Break down your weekly goals into daily tasks. There are a few options for you:
Using the included

WEEKLY PLANNER

list your weekly goals in the GOAL box. Then, under the DAILY TO DO LIST, write down all the tasks that you need to do to accomplish your weekly goals.
Use the Daily Task Organizer to create a daily brain dump and focused to do list.
Use the Weekly Flip To Do List to create a simple to do list every day of the week.
Where do you want to be in five years is a really hard question to answer. Everything could change in a day or your whole life could explode. If you start writing down your goals and creating actionable steps, you'll be well on your way to those five year goals sooner than you think!
IT'S TIME TO
GET READY FOR 2024!
Get organized for 2024 with the easy to use monthly 2024 calendar! Simply opt in below to have the FREE calendar sent straight to your inbox.