Technology Organization for Men, part 1
Ok, guys! You've been asking and asking…and finally I have some technology organization tips just for you! Actually, the tips aren't new (aww, don't be disappointed…there is good news! just keep reading!)…they are ones that I have shared before, but the organization images are new…and they are just for guys.
This week and next I am going to do a 2-part series called "Technology Organization for Men". Make sure you check back next Wednesday for Part 2!
Back in October of last year I wrote a post, How to Organize your iPhone in 5 minutes. As much as you all liked the post, I heard that the backgrounds were a bit too 'girly'! Today I have guy backgrounds to the rescue!!
MEN, you can organize your iPhone in 5 minutes!
Check out my newly organized home screen for my iPhone! For all you visual peeps, this is a dream come true! It's a quick way to look at your phone and at a glance find something quickly!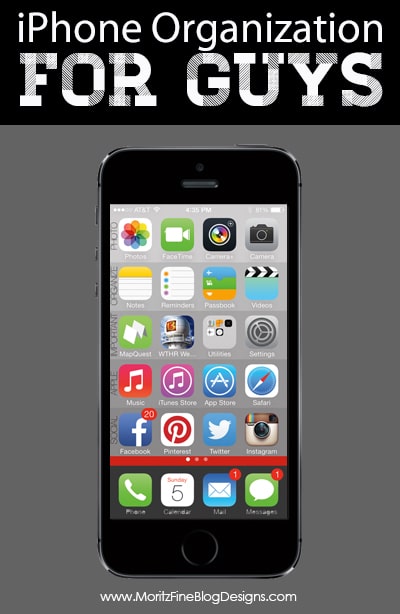 There are 4 easy steps to organize your iPhone home screen:
1. Download (links below) one of the backgrounds you would like to use on your phone. Notice some of the backgrounds have the organizational text on them, and some do not.

2. If you want to use the background exactly as you downloaded it, skip straight to step 3. If you want to add your own labels to the rows, go to Picmonkey, upload the image and add the titles to each box. Then re-save the image.

3. Email the image to yourself and open the email on your iPhone. Save the image to your camera roll (to do this, simply press down on the image until a window pops up with the option to save the image).

4. Go to Settings>Wallpapers & Brightness>click on the home screen image under the heading called "Choose Wallpaper". Tap on your Camera Roll and click the newly downloaded image. You will not need to move or scale the image, just click "SET", then choose "Set Home Screen".

That's it! Click your home button and check out your new home screen!…Go ahead and organize your icons in rows!
PS….When I first saved my image, my phone was STRETCHING it…argh!…There is a quick and easy fix (in case your phone is doing that too!). Go to SETTINGS>GENERAL>ACCESSIBILITY>REDUCE MOTION (turn this to ON). Now it should look perfect!
Remember to check back next week for my post on Technology Organization for Men, part 2 -Desktop Organization!
Gray/Red with text | Gray/Red | Green with text | Green | Grays with text | Grays
IT'S TIME TO
GET READY FOR 2024!
Get organized for 2024 with the easy to use monthly 2024 calendar! Simply opt in below to have the FREE calendar sent straight to your inbox.