Top 10 Valentine's Day Free Fonts
Valentine's Day is my most favorite holiday for making all things crafty! Can I blame the fact that I have 3 BOYS and this holiday legitimizes my "girly" looking crafts?!? No boy colors are allowed and my boys don't complain when there are pinks and purples and reds in my home decor and crafts!
Here are my Top 10 Valentine's Day Free Fonts
All the fonts are free and easy to download. Although it looks like I only have 9 fonts on the list, the 10th font is actually all the heart doodles (#1 on the list below).
Let me know if you make a craft/invitation/printable with any of these fonts. I'd love to see your final projects, just leave me a comment below or add your link to your blog post.
Not all fonts are commercial free, so check before use!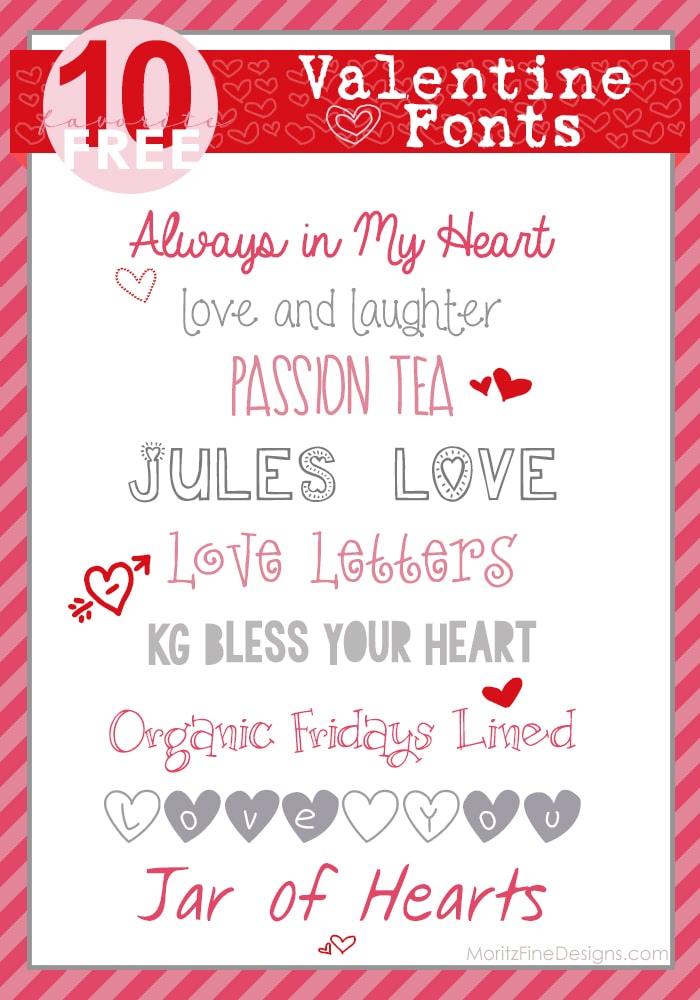 1. MTF Heart Doodle | 2. Always in My Heart | 3. Love and Laughter | 4. Passion Tea | 5. Jules Love
6. Love Letters | 7. KG Bless Your Heart | 8. Organic Fridays Lined | 9. Love You | 10. Jar of Hearts
[convertkit form=4865055]
IT IS POSSIBLE TO
ENJOY STRESS FREE HOLIDAYS THIS YEAR!
The holiday season can be downright exhausting. We have too many things to do and not enough time to get them done. The NEW & IMPROVED 2022 Holiday Planner will not only help you get organized, but will also help melt away that holiday stress so that you can actually enjoy the season for a change!