10 Must-Have FREE Hand-Written Script Fonts
If you all have been around the blog for a while, you know that I have a *small* obsession with fonts. Truly, I wish I had an unlimited budget to buy fonts–even though I already have thousands in my font library…seems you can never have too many!
When it comes to a budget, though, I really do have to limit what I can spend. Before I ever buy I font, I try to find the perfect free font because there are so many amazing free fonts.
10 Must-Have FREE Hand-Written Script Fonts
Below are some of the latest free Hand-Written Script Fonts I have come across and fallen for. xoxo..font love.
Ever come across some amazing fonts that you love. It would be wonderful if you could share them by leaving a comment below.
Not all fonts are commercial free, so check before use!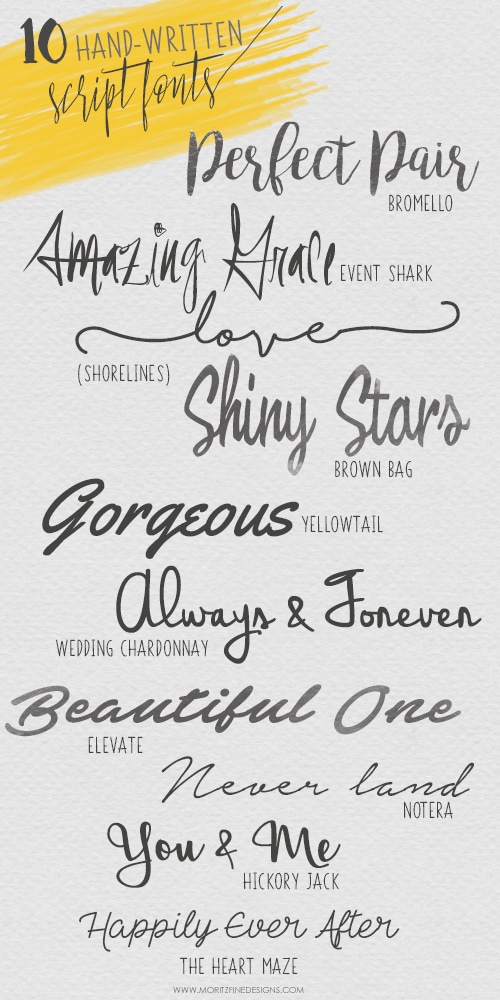 1. Bromello | 2. Event Shark | 3. Shorelines | 4. Brown Bag | 5. Yellow Tail
6. Wedding Chardonnay | 7. Elevate | 8. Notera | 9. Hickory Jack | 10. The Heart Maze
IT IS POSSIBLE TO
ENJOY STRESS FREE HOLIDAYS THIS YEAR!
The holiday season can be downright exhausting. We have too many things to do and not enough time to get them done. The 2023 HOLIDAY PLANNER will not only help you get organized, but will also help melt away that holiday stress so that you can actually enjoy the season!