Christmas Treasure Hunt for Kids
Looking for a little Christmas fun for the kids? You can send them on a Christmas Treasure Hunt and the treasure at the end of the hunt can be anything (either big or small) you choose.
Christmas Treasure Hunt for Kids
How perfect would a Christmas Treasure Hunt be on Christmas morning? When you have that one special gift for your kids, why not have them go on a treasure hunt for it, instead of simply finding it under the tree?
The treasure hunt for kids can be a super fun activity for all ages. You will need to be sure to grab the treasure hunt cards from the download button at the bottom of the post.
After printing the clue cards, be sure to cut out the clues and then place one clue in each of the clue locations. The clue locations are listed in the included "answer key". The location of the last clue is where you will place the "treasure" the kids are looking for.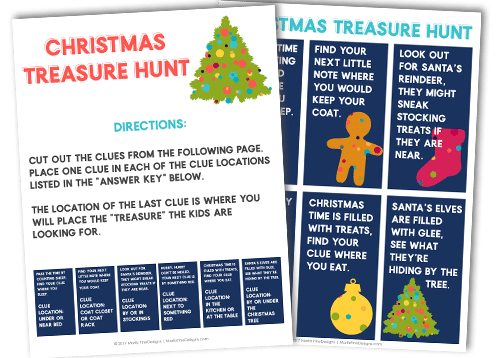 Need to change the hunt up a little?
Try harder hiding locations
Add a little prize with each clue card
Set a time limit
Give the kids an activity to do at each clue card
The kids sure can be anxious for Christmas morning. They might enjoy doing a Christmas Countdown as they wait for the magical morning to arrive!
IT IS POSSIBLE TO
ENJOY STRESS FREE HOLIDAYS THIS YEAR!
The holiday season can be downright exhausting. We have too many things to do and not enough time to get them done. The 2023 HOLIDAY PLANNER will not only help you get organized, but will also help melt away that holiday stress so that you can actually enjoy the season!