Home Fall Preparation Checklist
Fall is just around the corner, and you are probably already starting to feel the crisp fall air outside. The change of the seasons puts me in an organization mood, and also means it's time to start preparing your home for winter! I know winter is still a few months away, but by starting to get your home prepared now, you won't be in a rush to finish everything before the first snowfall.
There are a lot of practical steps you can do to prepare your home for the cooler months starting now! Check out this Home Fall Preparation Checklist to prepare your home for fall.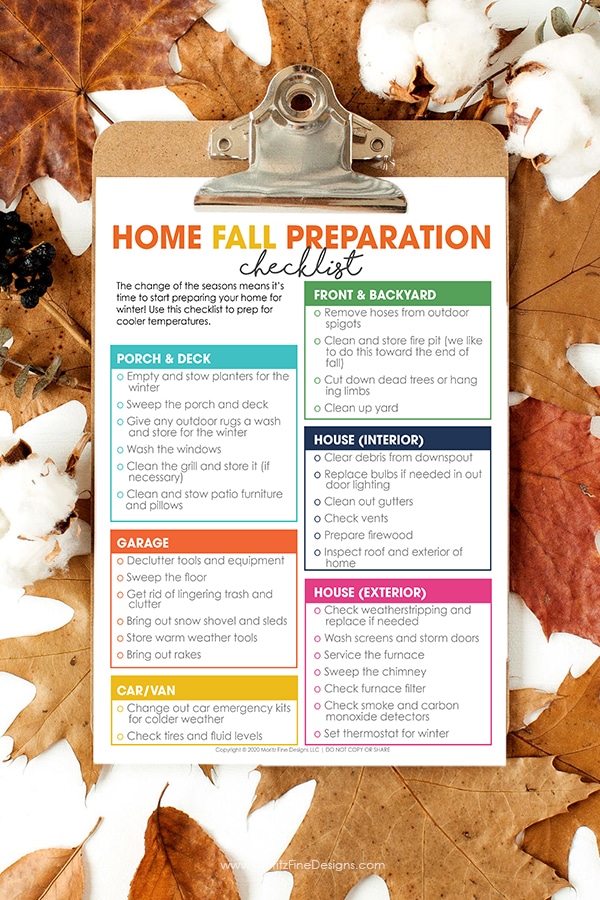 Home Fall Preparation Checklist
Porch and Deck
Empty and stow planters for the winter

Sweep the porch and deck

Give any outdoor rugs a wash and store for the winter

Wash the windows

Clean the grill and store it (if necessary)

Clean and stow patio furniture and pillows
Garage and Shed
Declutter tools and equipment

Sweep the floor

Get rid of lingering trash and clutter

Bring out snow shovel and sleds

Store warm weather tools

Bring out rakes
For more tips on deep cleaning your garage, don't miss this post.
Car/Van
Front and Backyard
Remove hoses from outdoor spigots

Clean and store fire pit (we like to do this toward the end of fall)

Cut down dead trees or hanging limbs

Clean up yard

Close pool
House (exterior)
Clear debris from downspout

Replace bulbs if needed in outdoor lighting

Clean out gutters

Check vents

Prepare firewood

Inspect roof and exterior of home
House (interior)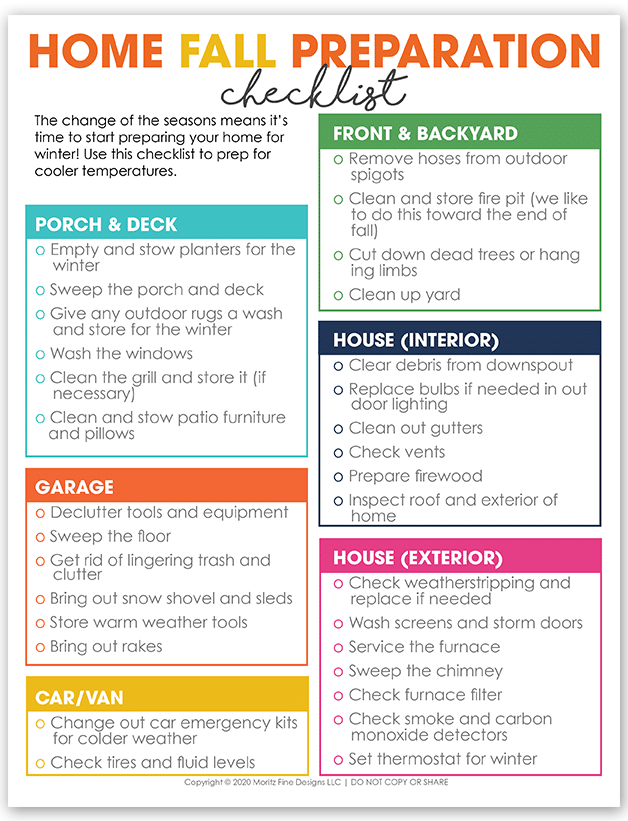 Using this fall organization checklist, your home will be ready for fall before you know it! If you are looking to deep clean your home before fall arrives, don't miss my post on how to deep clean every room in your house.
IT IS POSSIBLE TO
ENJOY STRESS FREE HOLIDAYS THIS YEAR!
The holiday season can be downright exhausting. We have too many things to do and not enough time to get them done. The 2023 HOLIDAY PLANNER will not only help you get organized, but will also help melt away that holiday stress so that you can actually enjoy the season!