Get Your File Cabinet Organized Like a Pro
Paper is probably the bulk of your household clutter. It finds its way into every nook and cranny of your home and before you know it, you can't find what you're looking for when you need it! Getting your paper problem under control is easy, and will only take a few supplies! Everyone has a paper pile, or a "sort" bin somewhere in the house. Now it's time to deal with it! Round up all of the paper clutter in your house, and let's get started!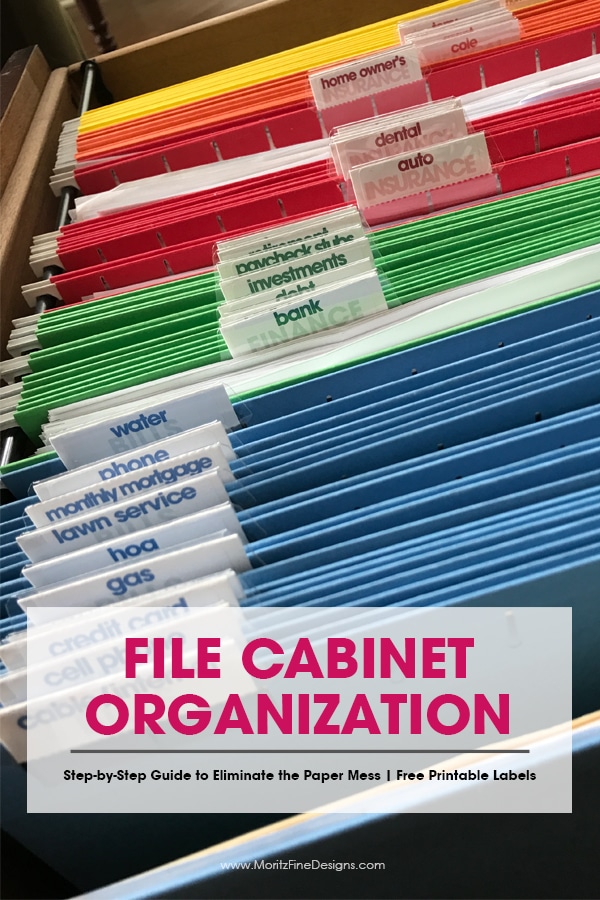 File Cabinet Organization
SUPPLIES:
3 boxes for initial sorting
filing cabinet or file storage box
address labels, size 1/2″ x 1-3/4″
printable label template (download at the bottom of this post)
Once you have all of your paper in one place, we are going to do a quick organization to identify each paper into one of these categories:
I recommend getting three separate boxes, and organize your paper that way. This initial step in the file cabinet organization process will help minimize the amount of papers you are dealing with at a time, making it easier to tackle the large stack you started with. Once you've sorted your papers, go ahead and recycle the ones in your recycle pile, and shred the ones in the shred box. Do this first, so you're not tempted to move any of your papers from their existing piles, only to end up with a giant keep pile of things you don't need.
At this point, you should only be left with items in your keep pile, so it's time to organize it! Using this method, we are going to organize all of your papers into a filing system. To do this you will need some labels, hanging files and  file folders, and either a filing cabinet or few file storage boxes (how many will depend on how much paper you have left).
If you don't have an inbox for your papers, you should start by making a place to put your incoming paper clutter. Until you have had time to sort your papers, you need to make sure all of your items go here.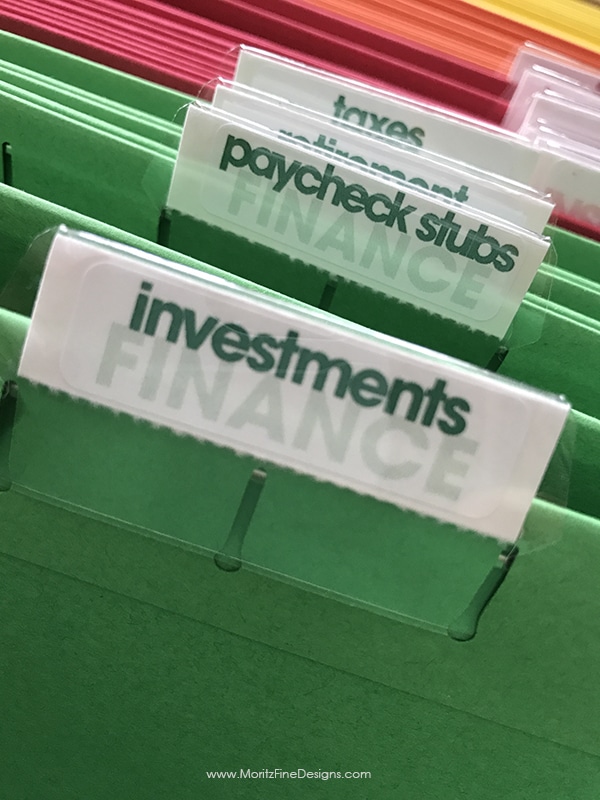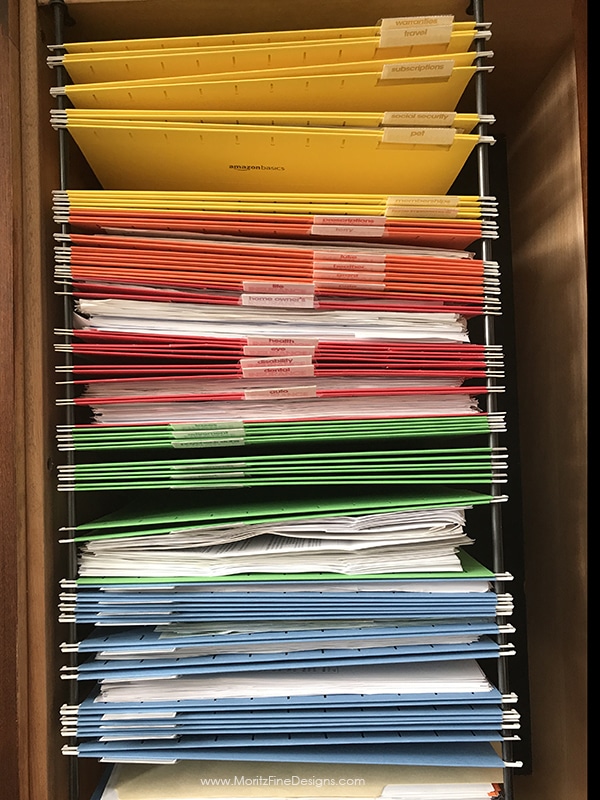 Next, take a look at your remaining papers and organize them into categories. Here are a few suggestions to get you started:
Finance

Medical

Insurance

Personal

Bills
Then, take the categories you've created and make labels for your file folders or better yet, use the free download from below (bottom of the post) and print on to your labels for the hanging folders. I recommend further subcategorizing as well, such as medical records and HSA for medical if you want!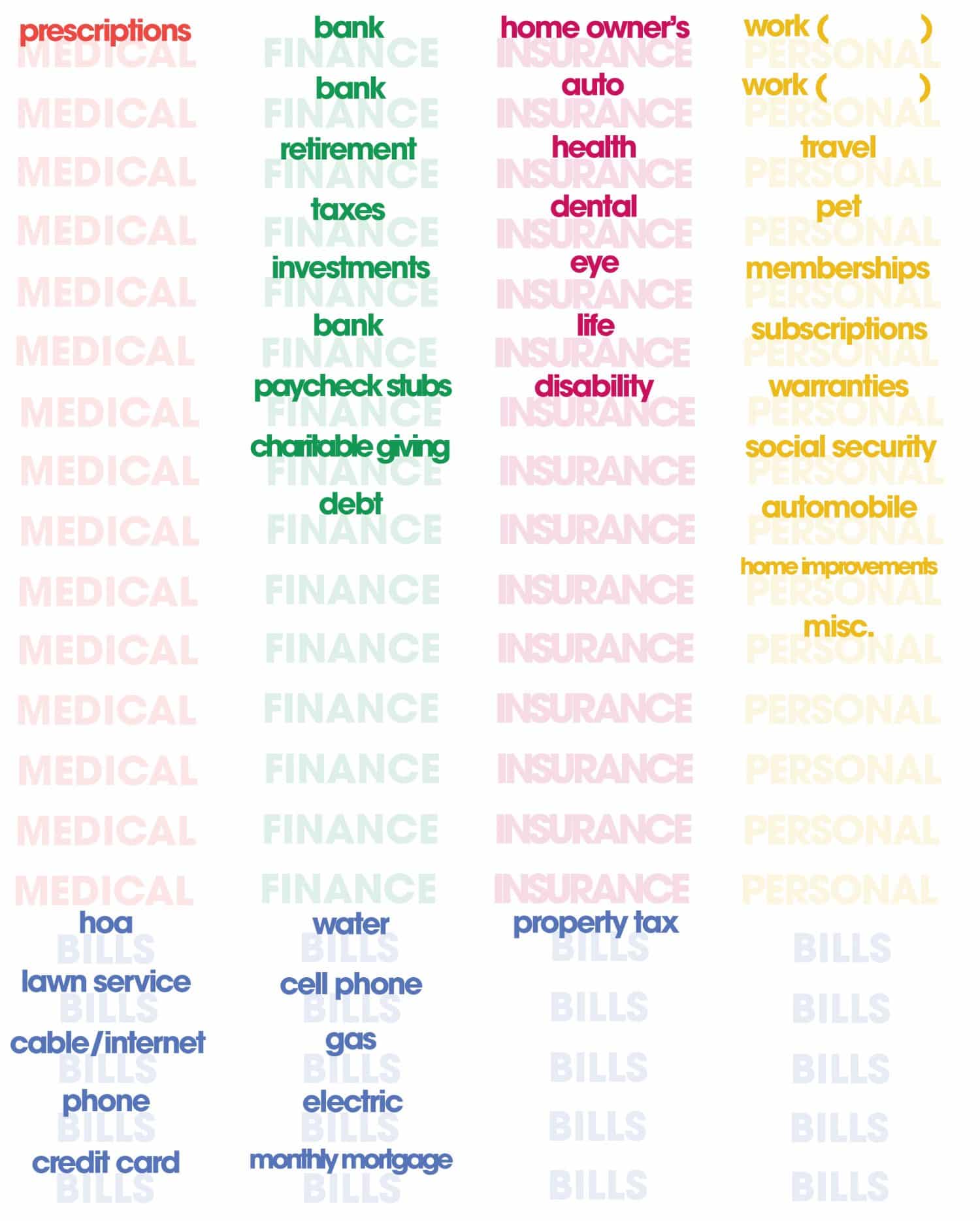 Finally, take your file folders and add them to your bins or file cabinet. You can either choose to have a bin for each category (if you have a lot of papers to organize) or put them in a single bin in a way that makes sense to you. As you continue to receive or need to get papers, you can easily find the ones you need thanks to your neatly organized file cabinet! I love to organize my kid's school papers following a similar process.
IT IS POSSIBLE TO
ENJOY STRESS FREE HOLIDAYS THIS YEAR!
The holiday season can be downright exhausting. We have too many things to do and not enough time to get them done. The 2023 HOLIDAY PLANNER will not only help you get organized, but will also help melt away that holiday stress so that you can actually enjoy the season!