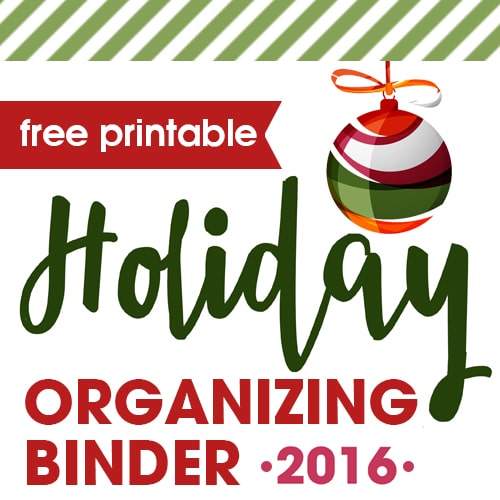 It seems that with a blink of an eye we go from one holiday season to to the next. Holding our breath to get through each. Feeling razzled, tazzled and holding on by strings to get through. We feel overwhelmed with the shopping, baking, wrapping and more.
Most of the time we just don't know where to start. It's hard to get all of our thoughts in one place. Last week I shared the Holiday Kickstart Organizer. Sure, this is a good place to start…to help us get our gears in order to begin our Christmas shopping early. But we need more to help us keep the holidays under control.
To enjoy the holiday season stress-free, we need to plan ahead, get organized and then stay organized all season long.
You can get your keep track of your budget, organize your gift shopping, keep track of sending and receiving Christmas cards, plan your holiday menus and more with the free printable 2016 Holiday Organizing Binder.

Are you ready to enjoy stress-free holidays? Download the FREE printable Holiday Organizing Binder below. Get started right away. Set aside an hour to map out your holiday schedule, budget and more.