Kid's Essential Oil Recipe Book
It's been a few years now since I revamped our medicine cabinet. I decided to kick the chemicals (you know, all those products that you can't even pronounce the names of the ingredients) and go natural for our family.
What a change we have experienced…and that's a change for the better. Honestly, I was a bit hesitant to try essential oils (I buy mine here), but at the urging of a good friend, I jumped in feet first. I could go on and on about all the changes we have felt in our bodies. For now, though, I'll just share how much I love that my kids know what essential oils to use for any issue they might be having.
The best part? Your kids can safely apply the oils on their own!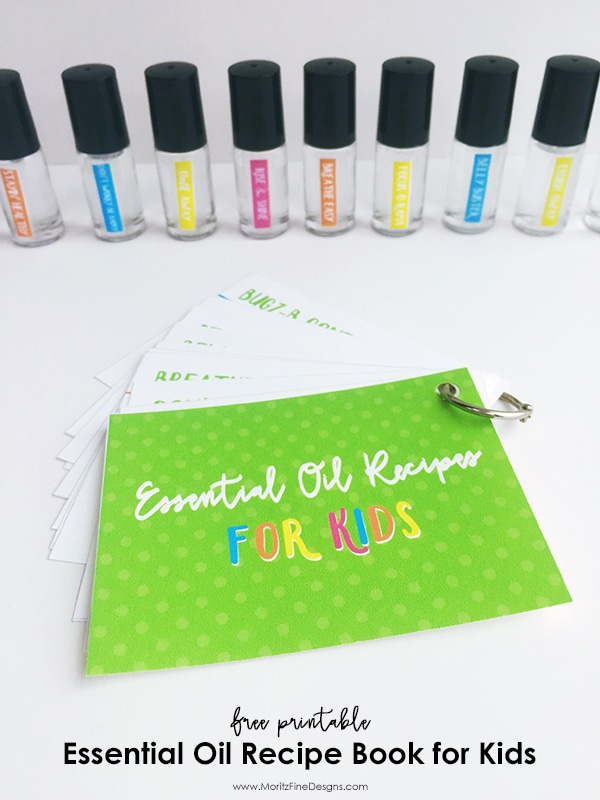 Kid's Essential Oil Recipe Book
Making a Kid's Essential Oil Recipe Book is quick and easy. It's something you will reference often, so be sure to keep it handy.
SUPPLY LIST
recipe book printable download (available at the bottom of the post)
hole punch
therapeutic grade essential oils
Print the free Kid's Essential Oil Recipe printable from the download below. After printing it out, cut out the cards along the cut lines. Then use a hole punch in the top right corner and feed onto a metal ring fastener or even use a carabiner.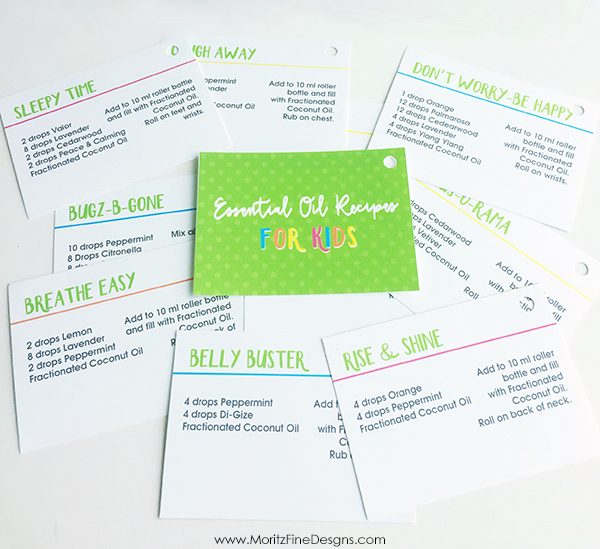 If you want your cards to last and not get full of fingerprints, oil or even just bent up, I highly recommend laminating the cards before you cut them apart. You can either take them to your local office store to get them laminated or laminate them with these easy to use  self-laminating pages.
To create your recipes, you will need 10 ml roller bottles (I use these). Add your drops of oil (I get my oils here.) and then fill the bottle with Fractionated Coconut Oil.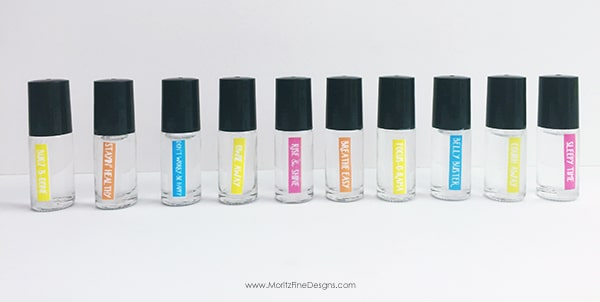 Last, add some cute labels (these are part of the download). You could print the labels on sticker paper, or print on plain card stock and attach to the bottle with clear tape (packing tape works best).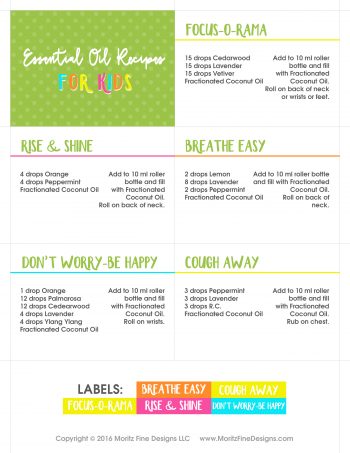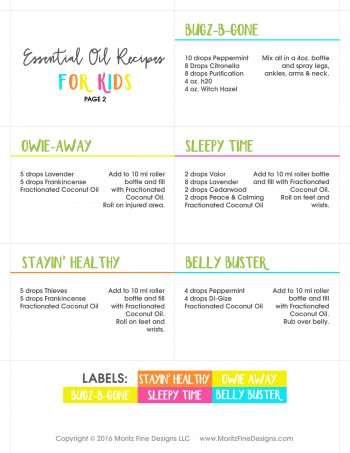 IT IS POSSIBLE TO
ENJOY STRESS FREE HOLIDAYS THIS YEAR!
The holiday season can be downright exhausting. We have too many things to do and not enough time to get them done. The 2023 HOLIDAY PLANNER will not only help you get organized, but will also help melt away that holiday stress so that you can actually enjoy the season!