Planning a trip is never easy. We spend hours and hours researching everything from the best transportation prices to the best places to stay to even the best places to visit. Do you ever wonder why planning a trip has to take so much time and even cause so much stress?
It's time to simplify planning your next trip–and it's easy with the Printable Travel Planner!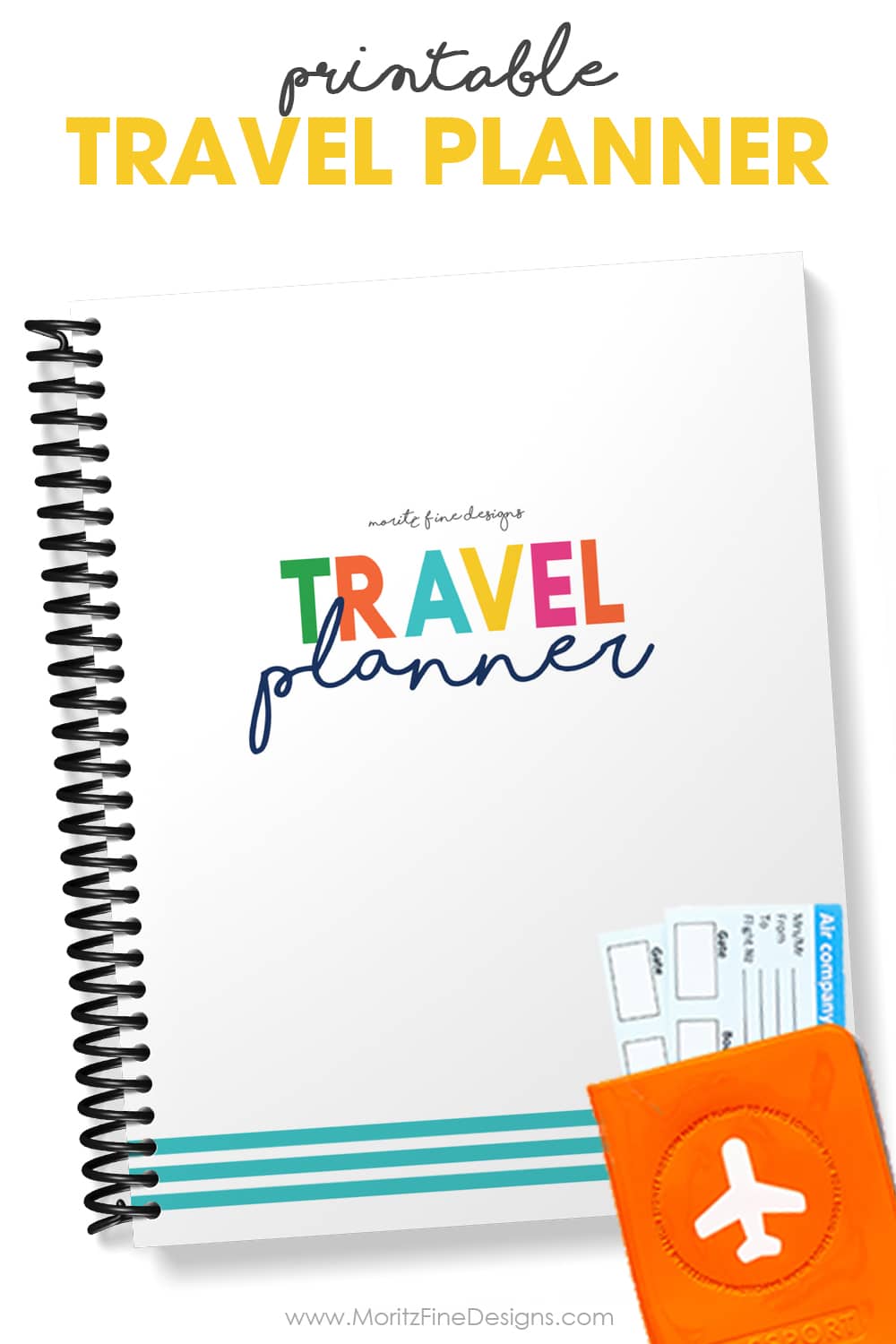 Printable Travel Planner
You can easily slay the travel details with the new Printable Travel Planner. A complete system to help you plan your next trip. These 17 pages will cover all your travel needs:
COVER PAGE
RESEARCH & IDEAS: There is a reason you need this planner. You are read to take a trip, it might be for personal or business travel. The Research & Ideas page allows you to brainstorm anything and everything you might want or need to do on your trip!
TRAVEL BUDGET: The perfect location to not only create your budget for the trip, but then keep track of your actual expenses.
TRAVEL AT-A-GLANCE: Your one stop cheat-sheet! Quickly review any part of your trip by keeping this sheet handy at all times. It includes everything for your date and destinations to transportation and accommodations.
PACKING CHECKLIST: Never forget an item for your trip! Start this list early and keep it by your side as you pack your suitcase.
RECOMMENDATIONS: When you talk about your trip to friends and they tell you try try "this or that", be sure to write down all the must-try or must-see things on this tracker.
TRAVEL CHECKLIST: There are so many thing you need to do to prep for a trip, as well as things that need to happen during the trip. Create this checklist to include all the things you need to do, from stopping the mail, to getting a friend to water your flowers and everything in between.
TRAVEL PASSWORDS: Remember all those sites you used to book everything from transportation to excursions–you can keep track of the websites and passwords using this travel password tracker.
TRAVEL OUTFITS: Plan your outfits for each and every day, it's easy to check to see what to wear each and every day, both morning and night.
TRAVEL CONTACTS: Traveling in a group? Keep everyone's contact information handy on this tracker. Keep your emergency contacts on this tracker too.
TRAVEL ITINERARY (DESTINATION OVERVIEW): A high level overview of each and every location on your trip.
WEEKLY ITINERARY: Get your plans laid out for the entire week, from morning to night.
DAILY ITINERARY: Break down your day with everything you might need throughout the day, including a detailed time schedule, where and what to eat, reservations you might have and even a handy checklist.
TRAVEL EXPENSES: A quick place to write down every expense on your trip before transferring it to your budget page.
TRAVEL NOTES: Keep any notes you might need for the trip on this note tracker.
TRAVEL JOURNAL (x2): Don't forget a thing! Keep track of your memories, highlights and even a photos or two.
Sample Pages
To view all pages included, go
here
.
How to Set Up Your Travel Planner
SUPPLIES:
You can create either a simple binder (first supply listed below) or to create a custom binder using supply items #2-4 below.
The planner is set up to cover one trip. You can simply grab a three-ring binder, punch your downloaded planner and insert.
For those of you who love to organize a bit more and want to create a binder that contains the information for every trip you go on, simply print out multiple sets of all of the pages (print one set for each trip) and add dividers between each set.
I love to use the discbound system to create planners. With this system you can put anything in your disc binder. You will need to invest in a disc hole punch like the Levenger Circa Portable 1-2-3 Punch or the Staples Arc Desktop Punch. To hold your planner together, you need the round discs notebook rings. There are lots of colors available. It's optional to get a cover, but I like my planner to stand the test of time so I use these translucent covers.
Are you ready to plan your next trip? The Travel Planner can help you do just that. Get started now! What are you waiting for?
IT'S TIME TO
GET READY FOR 2024!
Get organized for 2024 with the easy to use monthly 2024 calendar! Simply opt in below to have the FREE calendar sent straight to your inbox.