Quarterly Goal Setting Worksheets
I don't know about you, but a new year gets my brain spinning with thoughts about all I want to accomplish in the upcoming months. There are financial goals, home projects, family trips, weight loss goals (of course!) and so much more.
But realistically, for many of us, these goals just swirl around in our heads and by summer we have accomplished few to none of them. At this point in the year some of us can't even remember what our goals were that still need to be accomplished by year's end.
Is it even possible to accomplish big goals?
QUARTERLY GOAL SETTING WORKSHEETS
Often times we just don't know where or how to get started. Goals seem too dreamy. The reality is it's a lot easier to reach your goals than you think. I share in detail in my Goal Setting Mini-Guide how to break down your goals into mini-goals to help you get them accomplished.
Make New Goals Every Quarter
One thing I haven't share in the past is how to take each quarter of the year to create new goals. The fact is that when we creating yearly we lose site of what the goal is. Instead, when we break the year into 4 quarter and make new goals every quarter, the goals are at the forefront of our minds. We keep focused on accomplishing our goals and can get more done in less time.
It's still great to make 3-4 big yearly goals, but then use your quarterly goals to help reach the yearly goals.
So where do you start? You will want to get the download at the bottom of this page. It's 4 simple Quarterly Goal Setting Worksheets. The worksheet breaks down life into 4 areas: personal, spiritual, health and family goals. There are spots for 5 goals for each area. I suggest not using every line, It's better to focus on 6-8 goals across all areas.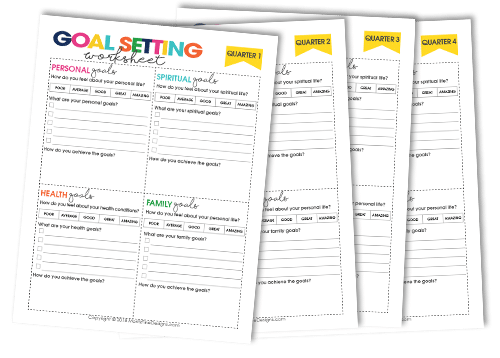 Once you list your goals, be sure to write down how you are going to accomplish the goals. Remember your timeline…by the end of the quarter your goals should be achieved.
But what if you don't get every goal checked off of your quarter list? A good measure of success is if you accomplish 80% of your goals. Missed a goal? Add it to the following quarter's Goal Setting Worksheet!
To get more specific direction, be sure to download the Goal Setting Mini-Guide!
IT'S TIME TO
GET READY FOR 2024!
Get organized for 2024 with the easy to use monthly 2024 calendar! Simply opt in below to have the FREE calendar sent straight to your inbox.