Thanksgiving Menu Planner
No pressure. You are in charge of Thanksgiving dinner this year. You know, it's on the most prized meal of the year. The secret family recipes, which only get made once a year, have to be cooked to perfection, you want everyone to rant about the turkey and let's not forget about the pies. Yep, I said pies. You can't have just one!
Keeping track of everything on your menu and what groceries to buy is no easy feat.
You might even be asking friends and family to pitch in (we here in Indiana call it a pitch-in while others of you call it a potluck!), you've got to keep track of that too!
Printable Thanksgiving Menu Planner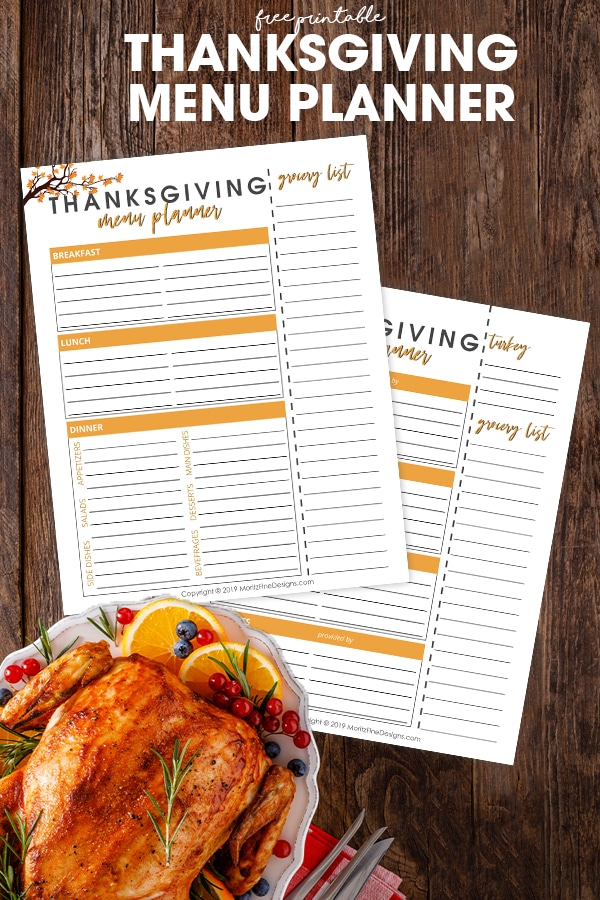 Want to know the easiest way to plan your Thanksgiving meal and keep track of it all? Use the Thanksgiving Menu Planner.
In one easy download, there are two Thanksgiving Menu Planner options for you. One if you are cooking and shopping for the whole meal yourself and another if you are hosting a pitch-in or potluck.
My suggestion is to print it out and plan early! You won't regret it. A short 20-minute session of organizing appetizers, side dishes, desserts, beverages and more. And, your family and friends will love hearing from you early about what they can bring.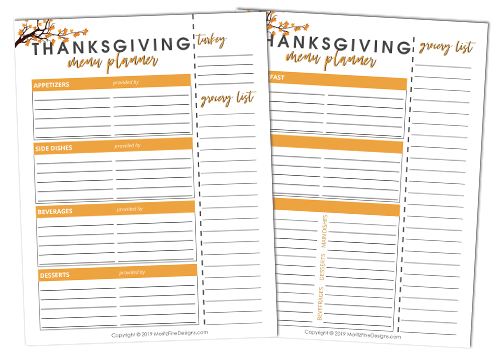 You can prep for the big day in other ways too. For the table (keep in mind, you can set the table days early–it's one less thing to do the day before or on Thanksgiving Day) use this utensil holder/gratitude card for the silverware and these place cards so people know where to sit.
Are you planning to have a kids table? Be sure to use these fun Thanksgiving Activity Placemats and add one of the easy to make, cute treats from this list.
IT IS POSSIBLE TO
ENJOY STRESS FREE HOLIDAYS THIS YEAR!
The holiday season can be downright exhausting. We have too many things to do and not enough time to get them done. The NEW & IMPROVED 2022 Holiday Planner will not only help you get organized, but will also help melt away that holiday stress so that you can actually enjoy the season for a change!